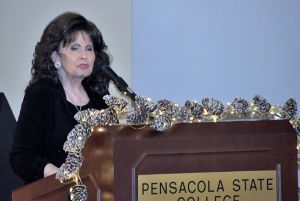 Published: 01-08-2021
More than $164,000 was donated to help Pensacola State College students during the inaugural Change Maker ─ Expanding Possibilities reception held Wednesday, Dec. 9, on the Pensacola campus.
"Education is one of my primary concerns. Pensacola State changes lives and I am enamored by all of the programs at the College," said Jo-Ann Price, a former educator, who along with her husband, Michael, founded the Change Maker program and contributed $50,0000 for student scholarships.
The fundraiser was the brainchild of the Prices who are major supporters of the College's annual Holiday Experience which was cancelled this year due to COVID-19. The couple met with PSC President Ed Meadows and PSC Foundation Executive Director Andrea Krieger earlier this fall to discuss a way to bolster scholarships for students who have lost jobs and incomes due to the pandemic.
That meeting resulted in the creation of the Change Maker program, where the Prices encouraged College administrators to use their gift to inspire four other donors to each give $10,000 which they matched. And to encourage more participation, the Prices suggested using the final $10,000 to match $1,000 gifts from 10 other donors for universal scholarships.
The fundraising venture went over and beyond the Prices' expectation.
Five donors and their organizations or families stepped forward to endow scholarships which will support PSC students for years to come.
The $10,000 Change Maker program donors are:
● The Sandy Sansing Foundation. Sansing, a Pensacola State College alumnus and the owner of 10 Gulf Coast automobile dealerships, also established the Sansing Scholars Program in 2002. Since its inception, the Scholars Program has awarded nearly $500,000 in scholarships to over 1,100 PSC students.
● The Morette Family. A longtime PSC supporter, Michael Morette is president of the Morette Company and he serves on the PSC Foundation Board of Governors. Morette and his wife, Laura Rae, and his sister, Nikki, and husband Rob Bell created an endowed scholarship to honor their mother, Sharon Morette ─ a PSC alumna.
● Rich and Beth Williams. The couple provides financial support to numerous education institutions and Take Stock in Children.
"We're all about supporting the community through education," Beth Williams said. "Pensacola State College helps people receive an education that will help them get jobs and better themselves and their families."
● Innovation Coast. When the organization decided to disband after achieving success for the membership of knowledge-based innovation companies; Foundation Board Member Bill Wein and other Innovation Coast members lobbied to have remaining funds invested in the establishment of a scholarship at Pensacola State.
Their endowment will help support students pursuing careers in technology.
● Walmart. Recognizing the challenges facing PSC students, several Walmart Supercenters and Neighborhood Markets in Escambia and Santa Rosa counties stepped forward to support the Change Maker program.
"Education is an important part of Walmart's culture. With the donation to Pensacola State College, we hope to provide an opportunity for students to further their education for years to come," said Walmart Market Manager Derald Cupp.
Ten donors stepped forward to help students immediately overcome the challenges associated with COVID-19, Hurricane Sally and a difficult 2020. Their gifts were combined with matching dollars to bolster the Universal Scholarship Fund by $20,500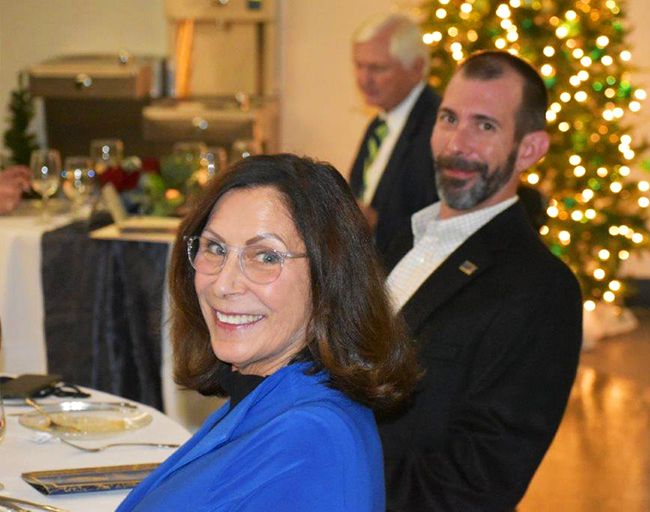 Contributing to the Universal Scholarship Change Maker fund are Jenn Cole, Steven Del Gallo, Doug Herrick and Sharon Hess-Herrick, Joe and Beverly Kinego, Navy Federal Credit Union, Bette Roberts, Mayor Grover and Jill Robinson IV, "Flash" Gordon and Betty Sprague, Dee Strickland and Herb and Ann Woll.
Meadows thanked the Prices and other donors for their generosity and commitment to the College.
"Our beloved Change Makers have loving hearts and generous souls. We are grateful for the opportunity to show how much you are all appreciated by those that know you by name and for those who may never know your name but will receive the benefit of your love and generosity.
"Change Makers are those who have overcome many of the struggles of life or have seen firsthand what it takes to make a difference in the life of someone who is trying," Meadows said.
"PSC Change Makers know our College well. They feel the spirit of caring by our faculty and staff as we reach out to the struggling."
Held in the Baars Technology Building, the Change Makers and their guests were treated to a four-course meal prepared by Blake Rushing, a Gordon Ramsay protégé and chef at Union Public House. Entertainment was provided by guitarist David Christenson and violinist Danielle Sims ─ both students of PSC's Performing Arts Department.
For more information, contact Sheila Nichols, the College's executive director of marketing, at (850) 484-1428 or snichols@pensacolastate.edu.
PHOTOS:
Top: Pensacola State donor Jo-Ann Price speaks to guests at the inaugural "Change Maker ─ Expanding Possibilities" reception held Dec. 9 at the College. Price, a former educator, and her husband, Michael, founded the Change Maker program and contributed $50,0000 for student scholarships.
Right: Michael and Laura Rae Morette (pictured) along with his sister Nikki and her husband Rob Bell created an endowed scholarship at PSC to honor their mother, Sharon Morette ─ a PSC alumna.
Pensacola State College photos