Published: 09-30-2022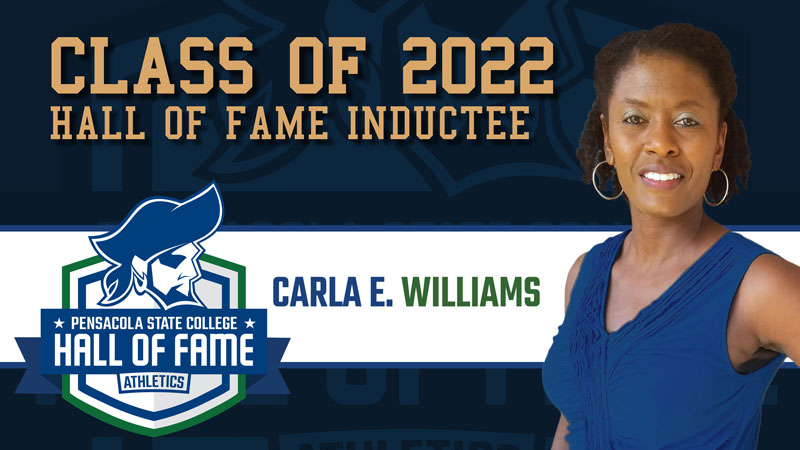 Pensacola State College Athletic Director Bryan Lewallyn said Carla E. Williams might be "the best ever Pirate to come through our halls."
Now, the late Carla E. Williams is permanently enshrined in the College's Athletics Hall of Fame. A gifted basketball player, coach, scholar, educator and mentor, Williams was the only Pirate inducted in the 2022 Hall of Fame class during a ceremony held following the Pirate Experience on Tuesday, Sept. 27, in Hartsell Arena where she enjoyed some of her greatest athletic moments.
Williams died in May due to domestic violence. But at Pensacola State College, it is her life that is celebrated now and forever. Her name is honored not just in the Hall of Fame. After her death, the Carla Williams Memorial Endowed Scholarship was established to help lift, inspire and support PSC student-athletes now and long into the future. After all, that's what Williams did in her decades as a Pirate – she lifted, inspired and supported generations of student-athletes.
Friend and fellow Coach Pete Pena, who shepherds the PSC men's basketball team, read the official induction notice in front of a large crowd that included Williams' family, friends, and student-athletes she helped lead and tutor.
"On behalf of Dr. Meadows and our administration, and on behalf of our Board of Trustees and faculty, and our athletic staff and family, I am very proud to announce the induction of Carla Williams into the Pensacola State College Class of 2022 Hall of Fame."
An associate professor at the College, Williams spent more than 24 years working in PSC athletics, Collegiate High and the Mathematics and Computer Science Department.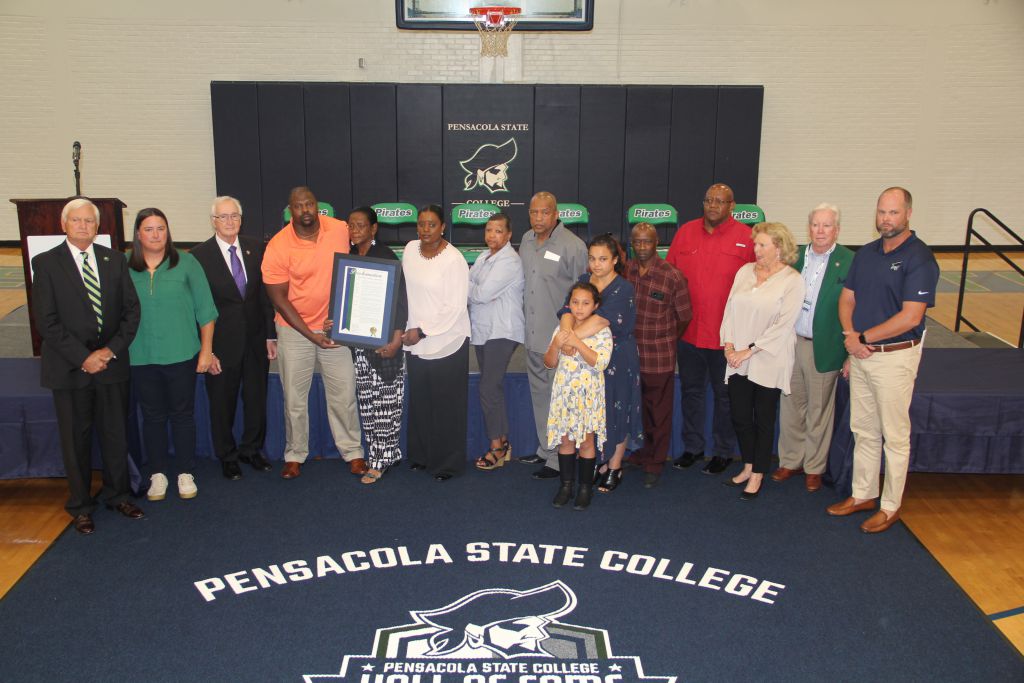 An academic and athletic standout at Graceville High School, Williams led the school to a state championship in 1992. After high school, she played two years at PSC, where she was selected to All-Academic, All-Conference and All-Region teams both years. After PSC, Williams played and excelled at Florida State University.
She came back to Pensacola State to teach and serve as an assistant coach to legendary PSC women's basketball coach Vicki Carson, who is also a member of the PSC Athletics Hall of Fame. When Carson retired, she wanted Williams to become the next head coach.
It didn't happen. Williams would have had to give up too much – teaching.
"Carla wanted to teach,'' Meadows said. "We celebrate Carla Williams not just as an athlete but as one of the best employees that PSC has ever had. She never said 'No' to a student, whether it was the weekend or the evening. She helped countless students whether they were athletes or not."
Williams was still close to the PSC athletic program and served as a student-athlete tutor and mentor.
"I don't know if there has ever been a person who came through our athletic program who had the kind of playing career that she had, then returned to PSC to impact the lives of our students the way she did,'' Lewallyn said.
He noted that people can continue to honor Williams' commitment to PSC and student-athletes by contributing to the endowed scholarship in her name. The scholarship endowment is now at $25,000.
To contribute to the Carla Williams Memorial Endowed Scholarship, go to https://athletics.pensacolastate.edu/Carla-Williams-Memorial-Scholarship-Fund.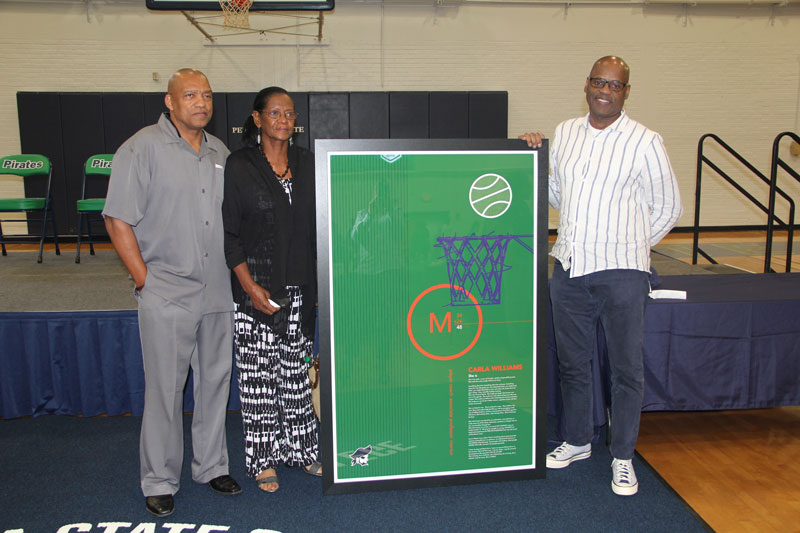 There also will be visual representations of Williams' excellence and legacy at the College. Graphic design instructor and friend Mark Hopkins created a visual tribute that will be permanently installed in the Lou Ross Center, PSC's athletic facility that houses Hartsell Arena. And, of course, there is the Hall of Fame plaque on display now in the lobby of the Lou Ross Center.
Williams' brother Ben Williams thanked the Pirate family for "your love and support."
"It's definitely bittersweet,'' he said. "But coming to a place that Carla loved and treasured, that does make it a little bit easier."
He then addressed the student-athletes in the arena.
"This is the best time of your life – soak it up and enjoy it and live life to the fullest,'' he said. "You'll never have this opportunity in your life again. And when you need a little motivation, look up and think of Coach Williams because she is looking down on you. She is the person who can help push you, to help you say 'Hey, PSC, we're going to win this. We're going to go and take this and we're going to be victorious.' "