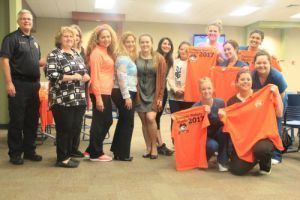 Published: 02-20-2018
Do you know how to defend yourself if attacked? What about how to respond during an Active Shooter situation? Or can you protect your most personal information from online hackers?
In March, Pensacola State College is hosting its second Campus Safety Month with speakers, workshops, seminars and sessions to address these concerns and more. Events are scheduled at all campuses – Pensacola, Milton and Warrington – and the Century and South Santa Rosa centers.
Set for March 1-23, Campus Safety Month 2018 will kick off with a Law Enforcement Panel and Blood Drive in the Pensacola campus Student Center on Thursday, March 1.
Along with daily events, Campus Safety Month organizers also will set up information tables during the 30th annual Northwest Florida Forestry Conclave and Lumberjack Festival set for Saturday, March 3, on the Milton campus and at PirateFest on Saturday, March 17, on the Pensacola campus.
On Monday, March 13, Dr. Gary J. Margolis, co-founder of Margolis Healy – Solutions for Safe Campuses, will speak at 11 a.m. in Hagler Auditorium.
With more than 20 years of experience in public service, Margolis served as chief of police at the University of Vermont from 1998-2009 and has served as a police executive, police academy administrator, police officer and deputy sheriff.
A highly-respected consultant, speaker, educator and trainer, during his tenure with Margolis Healy, Margolis has addressed a variety of K-12 and higher education safety and security issues including crises response and communications; security technology application; emergency response and recovery planning; and preventing sexual and gender violence on campuses.
He has been called upon by the U.S. Departments of Justice, Education and Homeland Security as a campus security expert and has testified before the U.S. Senate Committee on the Judiciary.
Other Campus Safety 2018 events include Krav Maga self-defense, First Aid and AED/CPR training, sessions on cybersecurity and Internet safety, and workshops on how to interact with law enforcement and protect yourself from identity theft and predatory lending practices.
For information on dates and times of individual sessions, please check your email. Weekly updates will be emailed to employees and students. Also, look for the Campus Safety Month 2018 posters on bulletin boards around campuses and centers.