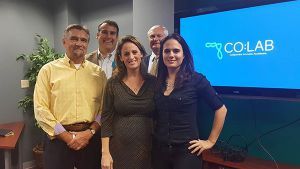 Published: 01-20-2017
CO:LAB – the new name of the Gulf Coast Center for Innovation and Entrepreneurship – has merged Collaboration, Community, Coworking and Coffee in order to help small business owners and upstarts succeed.
The rebranding was announced during a press conference held Wednesday, Jan. 11, at CO:LAB housed in Pensacola State College's Downtown Center.
Kelly Reeser, CO:LAB director, said the rebranding was necessary since the original name no longer fit the program's mission.
"We knew it was time to rebrand – based on the successes of the program and the companies that had started in the incubator and moved on," she explained. "It was time for our brand to match the program's success, it was time to do a refresh."
CO:LAB – the new brand – was developed by Tracy Crowell of Two Headed Marketing and Veronique Zayas of Hatchmark Studio with a continued mission to help new innovative businesses succeed.
Home to more than 10 small businesses, CO:LAB has 15,000-square-feet of office space with lease rates starting at $10 per square feet. Launched in 2008, the incubator was a joint venture between the Greater Pensacola Chamber of Commerce and the college. Today, FloridaWest oversees the business incubator with Pensacola State.
Tenants include Hatchmark Studio, Koala Pickup, Hexad Analytics, Broker Frameworks, Your Techno Geeks, Paint University, EBI Inc., IRIS, Accountingfly, Jewel Graphics and Florida First Capital Finance Corp. Former tenants include Clearstream, Paysell, EPR, The Analyst Group, reVERA Services and Robotics Unlimited.
Since the incubator has been in place, more than 100 people have been employed by incubator companies, and 46 new jobs have been created in the Pensacola area. Over the years, the incubator has maintained an 80 percent occupancy rate.
Pensacola State President Ed Meadows said initially he was against the rebranding efforts.
"However after Kelly shared the purpose of the rebranding of the CIE, I was on board," he explained. "Days are ripe for small businesses and CO:LAB Pensacola can help bring the dreams of entrepreneurs to fruition. I am proud to be part of this venture."
Meadows added he hoped Pensacola State students and graduates who aspire to become business owners will take advantage of CO:LAB Pensacola.
"Not only does CO:LAB offer space and support for young or new entrepreneurs, it also provides an environment where their ideas can be nurtured," he added.
Scott Luth, CEO of FloridaWest, praised the rebranding efforts at the press conference.
"This is the next evolution in the support of local small businesses," he said. "It is an exciting day for economic development in Escambia and Santa Rosa counties."