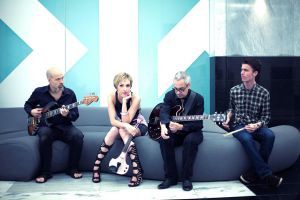 Published: 09-19-2017
The last weekend of September will be a busy one for entertainment seekers.
The hilarious "Broadway's Next H!T Musical" will be staged at 7:30 p.m. Thursday, Sept. 28, at Pensacola State College's Ashmore Fine Arts Auditorium, Building 8, on the Pensacola campus.
"Broadway's Next H!T Musical" is New York City's only original, unscripted theatrical awards show. Master improvisers gather fabricated hit song suggestions from the audience and create a spontaneous evening of music and laughter.
The audience votes for their favorite songs and watches as the cast turns this into a full-blown, improvised musical complete with memorable characters, witty dialogue and plot twists galore. Every song is fresh. Every scene is new. Every night is different. It's all improvised and it's all funny.
On Saturday, the Galactic Cowboy Orchestra will bring its eclectic mix of art-rock and jazz fusion to the college. The 7:30 p.m. concert also will be held in Ashmore Auditorium.
Nominated for Best 'Beyond' Band by Downbeat Magazine two years running, Galactic Cowboy Orchestra stretches musical limits with intensely energetic art-rock. This genre of rock often encompasses poetic lyrics and complex harmonic sounds derived from jazz and classical music.
For each event, tickets are $11, reserved admission; $9, seniors, non-PSC students and children; $7, PSC Alumni Association, PSC Seniors Club, PSC faculty and staff; and free for PSC students with ID.
Ticket can be purchased at www.pensacolastate.edu/lyceum or the Lyceum Box Office, Building 8, Room 861, from 8:30 a.m. to 4 p.m. Monday-Friday. Tickets also are available at the door one hour before a performance. For reservations or more information, call the Lyceum Box Office at 850-484-1847.