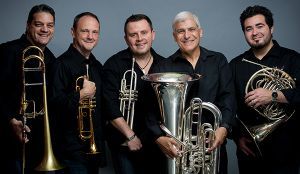 Published: 10-24-2019
For 31 years, the Boston Brass has set out to establish a one-of-a-kind musical experience.
Performing exciting classical arrangements to burning jazz standards, the musical ensemble treats audiences to a unique brand of entertainment captivating all ages.
At 10 a.m. Saturday, Nov. 9, members of Boston Brass will present a free Master Class on music performance in Pensacola State College's Ashmore Auditorium. The auditorium is Building 8 on the Pensacola campus, 1000 College Blvd.
The Master Class is made possible by a Pensacola State College and Pensacola Civic Band partnership. It is a part of the ongoing educational efforts of the Pensacola Civic Band.
A Yamaha Performing Group, the Boston Brass has been featured educators and performers at the Midwest Band and Orchestra Clinic, World Association for Symphonic Bands and Ensembles, Japan Band Clinic, Music Educators National Conferences, American Bandmaster Association Conference, The American Band College, Western International Band Clinic and Texas Bandmasters Association Convention.
Following the class, the Boston Brass will perform the "Sketches of Spain," concert with the Pensacola Civic Band at 7:30 p.m. Nov. 9 at the Pensacola Saenger Theatre. Tickets are $10 and can be purchased at the theater box office. For more information about the Master Class or concert, visit www.pensacolacivicband.org or call (850) 484-1800.
Boston Brass Free Master Class
When: 10 a.m. Saturday, Nov. 9
Where: Pensacola State College's Ashmore Auditorium
Details: www.pensacolacivicband.org or call PSC Music Department at (850) 484-1800