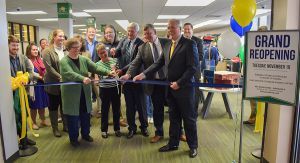 Published: 11-22-2019
By Troy Moon, Pensacola State College
Want to show your school spirit while in the holiday spirit? There's a Pensacola State College Christmas ornament that will look great on any Pirate's tree.
And the ornament is just one of the many PSC-themed holiday gift items available at the Pensacola State College Bookstore, which held its grand reopening on Tuesday with a ribbon cutting ceremony and even a celebratory cake.
"We've remodeled the store," said Beth Smithers, manager of the Pensacola campus PSC bookstore. "We have all new carpet, new fixtures, a little student center for students to sit and hang and get on their computers."
Pensacola State College President Ed Meadows was impressed.
"The carpet matches our school colors," Meadows said. "It really looks great."
Meadows also thought a pair of green PSC pajamas for purchase at the store looked great as well. He purchased a pair with a 30 percent discount coupon that is being offered to staff and faculty at PSC, and is valid through the end of the year.
"I have a whole closet full of baseball caps, quail-hunting caps, casual shirts and golf shirts," Meadows said before making the purchase. "But not the pajamas."
The Pensacola campus bookstore was tidied up with new carpet, painting, graphics and the small "student center" area where students and staff can relax. Most of the work was done in August just before the start of fall classes.
The bookstore offered a 25 percent discount throughout the day, which also was offered at the Milton and Warrington campus' bookstores.