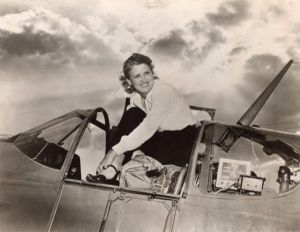 Published: 04-21-2017
In the early 1900s, Florida Panhandle native Jackie Cochran rose from a poverty-stricken childhood to become one of history's most accomplished female aviators. She learned to fly in 1932 and was enshrined in the National Aviation Hall of Fame in 1971.
"The Flight of Jackie Cochran" brings this amazing story onstage at 2:30 p.m. Sunday, April 23, at Pensacola State College's Ashmore Auditorium, Building 8, on the Pensacola campus.
The public is invited to this free event. No tickets are required and seating begins at 2 p.m.
Born in Muscogee, a sawmill town about 20 miles from Pensacola, in 1906, Cochran's fierce spirit, determination and love for flying propelled her to set so many aviation records, she became designated as one of the 20th Century's greatest American pilots – male or female.
During World War II, Cochran was the first woman to fly a bomber across the Atlantic Ocean, leading to the formation of the Women's Air Force Service Pilots (WASP) program for which she received the Distinguished Service Medal.
In 1953, Cochran became the first woman to exceed the speed of sound, with Chuck Yeager as her wingman, and in 1964, she exceeded Mach 2.
Cochran's daring story is presented in this one-woman show by Nancy Hasty, an award-winning New York playwright and PSC alumna, who now lives in DeFuniak Springs, Florida where Cochran spent several childhood years. Hasty researched Cochran's story, gaining original information from Cochran's relatives who still live in the area.
For more information, call the Lyceum Box Office at 850-484-1847.