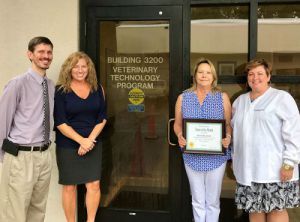 Published: 10-17-2017
Nona Brockett, an administrative assistant in Pensacola State College's Veterinary Technology Program, has been selected as the Kelly Services Talent of the Month for August.
Burkett has been at the college since July 2015 and was nominated by Sarah Meyer-Paterson, her supervisor and director of the college's Vet Tech Program.
"I could nominate Nona Burkett every month because she is such a valuable asset to me and this program," Meyer-Paterson said. "She comes in every day with a great attitude and is always willing to help the students."
Burkett really, really loves her job at the college's Warrington campus.
"I enjoy everyone around here. They are all – the faculty, other staff members and students – so pleasant and friendly, and this makes doing my job such a pleasure," Burkett said, adding the animals that the Vet Tech students care for are a bigger bonus.
"I love seeing them come in and be taken care of by our students. When they leave, I know the care they've received here is top-notch."
Meyer-Paterson said Burkett has used the college's existing software system to manage inventory and streamline patient data (medical records).
"Nona ensures timely return of receiving reports and reminds me of important upcoming events. I really could write a book about what all she does to help me, and how grateful I am she comes to work every day," Meyer-Paterson added.
Dawn Hope, Kelly Services Account Talent Manager, is seeking nominees for Talent of the Month.
"If you have a Kelly employee you would like us to consider for the Talent of the Month, send the submission to me," Hope said. "If you don't have a submission, but would like to help me pick a winner, that would be awesome."