Published: 06-16-2022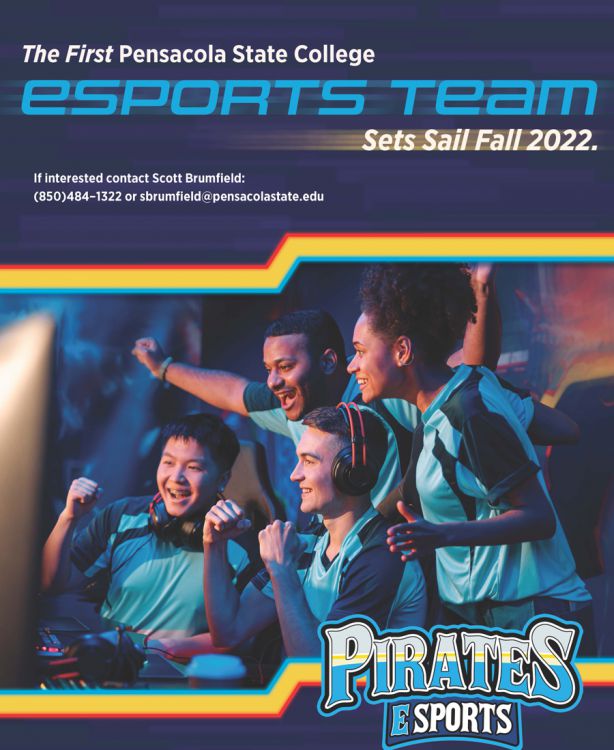 By Troy Moon
Pensacola State College
OK gamers. Haven't you been sitting in your bedroom playing "Call of Duty" long enough?
Maybe it's time to come to Pensacola State College instead. Don't worry, you can still play "Call of Duty" and maybe even compete on a true college team.
Pensacola State is launching a competitive esports team this fall, and the College is currently accepting applications for the PSC Pirates esports team. PSC also will launch an "Esports Club."
Gaming activity will take place in a new "gaming arena" that will be in the Delaino Student Center, Building 5, on the Pensacola campus. It will include numerous gaming platforms, including three console gaming systems.
"It's great for the College because it increases enrollment,'' said Scott Brumfield, newly-hired PSC Athletic Media Director/Coordinator of Esports. "It's one of the largest-growing activities among colleges."
The National Junior College Athletic Association Esports (NJCAAE), founded in 2019, is the governing body for two-year colleges participating at a competitive level. More than 125 two-year U.S. colleges have an esports team.
PSC's esports club will be open to all students, faculty, staff and alumni. The competitive team will be open only to current PSC students.
Brumfield said he hopes to recruit 25 players for the competitive team, which will play against schools in Florida and Alabama. He said he expects all who sign up will be part of the team. If more than 25 students sign up, Brumfield said there could then be a team tryout.
There are no scholarships offered, but members of the PSC esports team will wear swanky PSC jerseys that will feature their names on the back.
Approved NJCAAE games are:
Super Mario Bros. Ultimate
Fifa 22
Hearthstone
NBA 2k22
Madden 22
Overwatch
Rainbow 6: Siege
Call of Duty: Cold War – Gunfight
Call of Duty: Warzone
Call of Duty: Vanguard
Rocket League
Valorant
If you're interested in being a member of the PSC esports team or club, contact Brumfield at 850-484-1322 or sbrumfield@pensacolastate.edu.