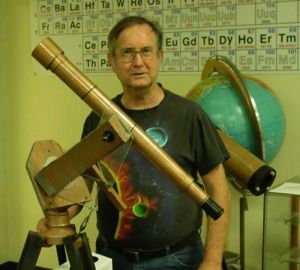 Published: 09-19-2016
Pensacola State College Astronomy Professor Wayne Wooten takes his eyes off the stars and digs up fascinating details about ancient Earth with a discussion of "Iron Bones: The Prehistory of Northwest Florida" at the college's monthly Book Talk at 2 p.m., Wednesday, Sept. 21.
The public is welcome to this free, informal event at the Edward M. Chadbourne Library, Building 20, on the Pensacola campus, 1000 College Blvd. A question and answer session follows the presentation.
Known for his vast knowledge of astronomy and captivating talks at local stargazing events, Wooten's book, "Iron Bones," reveals his understanding of the geological and biological characteristics of what we call the Panhandle, before the appearance of Homo sapiens.
Wooten's presentation takes the audience on a journey back many millions of years, when Florida and much of the Southeast lay only 20 degrees from the South Pole, beneath a blanket of glaciers.
"We will look at the great variety of environments our area has been subjected to in the last billion years or so," Wooten says.
Published in 1976, "Iron Bones" originally focused on Walton County and Wooten wrote it as a bicentennial gift for the citizens in the area.
For more information, call the PSC Edward M. Chadbourne Library at 850-484-2013.