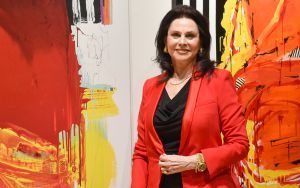 Published: 02-05-2020
By Troy Moon, Pensacola State College
Being in a room full of Susan N. McCollough paintings must be akin to what it's like being in the middle of a jazz improvisation performed by the masters – graceful, yes, but imbued with a spirit of frantic kineticism and spellbinding abstractism that is both mesmerizing and provoking.
Awash in bold color and frantic movement, McCollough's art seems alive, bursting with vibrant energy.
And all that boldness, all that color, all that vibrancy is on exhibit through May 1 at the Anna Lamar Switzer Center for Visual Arts at Pensacola State College.
An opening reception was held on Thursday, Jan. 30, in the Charles W. Lamar Studio at the Center for Visual Arts.
McCollough was named the 2017 Artist of the Year by the Florence-based Art Tour International Magazine, and her work has been featured in galleries in New York and Las Vegas, as well as European cities such as Florence, Paris, Monaco, Berlin, Palermo and many more.
Her studio is in Gulf Shores, Ala., where she lives with her husband, Gaylon McCollough, a prominent plastic surgeon. She recently released a book featuring her work, "Living Masters: Susan N. McCollough – My Journey Through the Arts."
"Her artwork really pops," said PSC President Ed Meadows. "There's just so much color and energy."
At the opening reception, a crowd of friends, supporters and art students and aficionados walked through the gallery, taking in the large-scale canvases on exhibit.
"I like it, she uses colors that are each distinct, but they tie together," said New Orleans-based artist Tara Campbell. "There's a depth to her work. It makes you wonder around the process she went through to develop her style."
A guiding principle was a quote from McCollough displayed in the gallery above the exhibit: "Most times I visualize realism in the abstract."
The Bronx native, a University of Alabama graduate, explained her process:
"When I look at something, whether I'm looking out the window or just walking and see a landscape, I basically see realism like everyone else does," she said. "But all of a sudden, my brain can function so I can see it as completely abstract…It morphs into something else."
Want to visit?
The Switzer Center for Visual Arts Gallery Hours:
8 a.m. to 9 p.m. Monday through Thursday.
8 a.m. to 4 p.m. Friday.
For more information, including tours, call 850-484-2550.