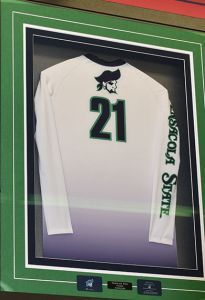 Published: 08-28-2018
Another contest fer yer pleasure …
Guess the location of this treasure!
After Pirates are done carousing
Their crafty nature may take them browsing.
It's not a Pirate's folly, y'all …
The treasure clue is volleyball!
Email your answer with "Pirate's Treasure" in the subject line to lmcknight@pensacolastate.edu. The first person to email the correct answer wins the grand prize – a "Pirate's Treasure" Beach Bag loaded with swag! The first two runners-up win T-shirts! Thanks for playing, Pirates!