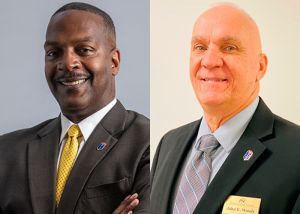 Published: 11-21-2019
This month we celebrated Veterans Day and this month the Pensacola State College Association of Florida Colleges chapter is recognizing two employees who ─ together ─ served more than five decades in the military.
Rob Gregg, director of Veterans Upward Bound, and Dr. John Woods, Academic Coordinator for TRIO – Veterans Upward Bound, are the AFC Member Spotlights of the Month for November.
Gregg has been employed at Pensacola State for more than 13 years and an AFC member for most of that time. He has served as the chapter's legislative representative, president-elect and president, as well as member services and Institutional Effectiveness, Planning and Professional Development chair on the state AFC Executive Commission.
"Rob has been the 'go-to guy' in the past for veteran-related community service projects," said Mel Miner, president of the College's AFC chapter. "In 2015, he led the Pledge of Allegiance during the AFC Annual Meeting and Conference opening general session. His continued involvement with the association is very much appreciated."
After serving 24 years in the U.S. Navy, Gregg retired as a chief petty officer. Before being named VUB director in 2015, he served as the College's coordinator of Institutional Research for seven years. Currently, he is the president of the National Association of Veterans Upward Bound Program.
Woods began his career with Pensacola State in January 2018 and made the decision to join AFC in March of the same year. He served 30 years in the U.S. Air Force before retiring in 2007 when he transitioned into teaching middle school and high school.
Before coming to the College, Woods worked for the Children's Home Society.
"John has been a welcomed addition to the College chapter and participates in many of our events. As the current chapter president, I work closely with John on events dealing with veterans. He was instrumental in getting the College's AFC chapter involved with the recent annual Homeless Veterans Stand Down held at the local Salvation Army," Miner said.
"Without John's input and support, the chapter would not be aware of the opportunities available for us to get involved with local veterans."
Miner said she has no doubt Woods will continue to be an involved AFC member.
"Both Rob and John are active AFC members and continue to reach out to assist veterans in every way possible. The PSC – AFC chapter would like to say a big thank you to both gentlemen for their service to our country, our college and the Association," Miner said.