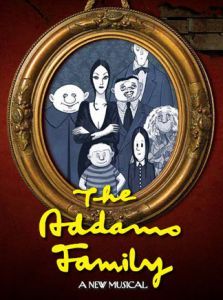 Published: 10-17-2017
Creeeeeek … skreeeeech … bump … thud …. Yikes!!!!
Don't be frightened. Come right in and relax – if you can. The dimly lit, slightly macabre, Ashmore Auditorium is just the place to catch up with the kooky-spooky Addams Family, Oct. 27-29 and Nov. 3-5.
Sssssshhh….no questions… just be there at 7:30 p.m. for Friday and Saturday performances and 2:30 p.m. for Sunday matinees.
But, hold on tight…the quirky, upside-down world of the Addams Family is threatened with normalcy in this lively, funny, song-and-dance production.
The Addams kids are finally growing up and beloved daughter Wednesday has fallen in love with a regular guy from a respectable family in Ohio. After Wednesday invites her beau and his parents for dinner, the Addams family must face the dreadful nightmare they have avoided for hundreds of years – change.
In addition to a large ensemble, the cast includes Austin Rowe as Gomez, Veronica Lindholm as Morticia, Liz Watson as Wednesday, Justin Jones as Fester, Anna Catherine Morgan as Pugsley, Hannah Chism as Grandma and Mario Cieri as Lurch.
Production staff includes Rodney Whatley, director; Nancy Haller, assistant director; Michael Dennis, choreographer; Carley Lambert, dance captain; Stephanie Busby, music director; Bob Gandrup, technical director; Lavonne French, costumer; and Austen Edwards, makeup.
Tickets are $16, reserved seating; $9, seniors 60-plus, children and non-PSC students; $7, PSC staff/retirees, PSC Alumni Association members, and PSC Seniors Club members; free, PSC students.
Purchase tickets online at www.pensacolastate.edu/lyceum or at the Lyceum Box Office, Building 8, Room 861, from 8:30 a.m. to 4 p.m. Monday – Friday  and one hour before a performance. For reservations or ticket information, call the Lyceum Box Office at 850-484-1847.