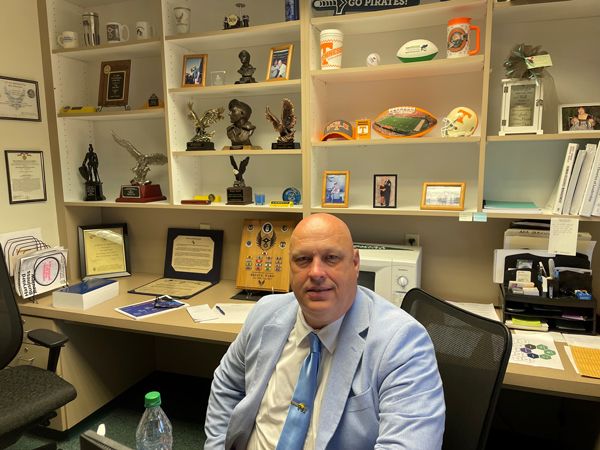 By Troy Moon
Pensacola State College
Just three weeks into his teaching career at Pensacola State College – and his first face-to-face teaching gig anywhere – Dr. Brian Ward underwent emergency surgery for stage 3 colon cancer just a day after being diagnosed. The cancer had advanced to that extent.
The surgery was supposed to last four hours – it took eight. He was so bad off surgeons had to stop the procedure four times to regulate Ward's blood pressure.
Eleven days later, Ward, PSC Lead Human Resources Professor and a retired U.S. Air Force veteran, was in front of his students teaching class.
That was five years ago. Today, Ward said his doctor considers his cancer "cured,'' though it is not in remission.
Ward is one of five acclaimed PSC instructors who have been inducted into the College's Academy of Teaching Excellence for 2022.
"I love teaching and I am so honored,'' Ward said of the recognition. "It comes from the students, so it means a lot."
Ward said it was important to him to get back to the classroom less than two weeks after leaving the intensive care unit, despite his doctor's advisements otherwise.
"I almost died,'' Ward said. "I knew I probably had it. All the symptoms were there." Still, he avoided going to the doctor because he "didn't want to hear the 'C' word."
So, it was while teaching at PSC during an evening class that he "broke into a cold sweat" and had to go to the emergency room. His supervisor was scheduled to evaluate his class that night.
"Twenty-four hours later, I was on the (operating) table,'' said the 53-year-old Ward. "It was bad."
He spent three days in the ICU.
His doctor told him to "stay off my feet and I don't need to be driving. He said I should take a couple months off."
Ward couldn't or wouldn't, abide. Instead, he returned to class and taught while enduring chemotherapy and the months he had to go everywhere – including class – with an ostomy bag attached to his body.
"I had just started a few weeks earlier and I already loved it,'' he said. "I love what I do, and I love doing it here."
Ward, who lives in Navarre with his wife Claudia, served 23 years in the Air Force. His Air Force positions range from anti-terrorism officer to human resources manager. He retired as a senior master chief.
He earned his Bachelor and Master of Science degrees from Southwestern College and earned his Doctor of Business Administration from Argosy University.
One last note – Ward not only wanted to get back to the classroom. He wanted to get back in his car and drive. He's a sports car type of guy and drives the 2015 maroon Corvette you see around on campus. He's already eyeing a newer Corvette.