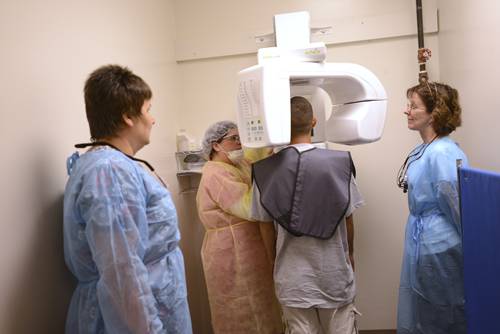 Contact the Pensacola State College Allied Health Department for assistance in planning your program of study.
View Course Requirements
ACCREDITED BY:

This program is accredited for the length of 5-years by Joint Review Committee on Education in Radiologic Technology (JRCERT) with the next accreditation review in Spring 2023. 20 N. Wacker Drive, Suite 2850, Chicago, IL 60606-3182, Phone: (312) 704-5300, http://www.jrcert.org/
SEARCH PROGRAMS
INTRODUCTION
The Associate in Science Degree in Radiography is designed to assist the student in developing and mastering basic clinical competencies and theoretical concepts of current radiography practice. The program is accredited for the length of 5-years by the Joint Review Committee on Education in Radiologic Technology (JRCERT) with the next accreditation review in Spring 2023.
The graduate of the program is eligible to apply to take the American Registry of Radiologic Technologists exam (ARRT).
Joint Review Committee on Education in Radiologic Technology
20 North Wacker Drive, Suite 2850
Chicago, IL 60606-3182
312-704-5300
www.jrcert.org
Special Admissions Requirements
Admission is limited.  All program entry requirements must be met before students are eligible for admission. One class per year is accepted. Seats are allotted to qualified students on a first qualified/first served basis.
Admission for eligibility to the program includes a minimum grade of "C" or better and 2.75 GPA on Program Specific General Education Prerequisite Courses, College Application, Health Related Programs Application, and High School Transcript Standard Diploma.
When students complete all sections of the application process and meet minimum criteria, they will be provisionally accepted into the program and assigned a seat in the next available class. Therefore, it is important to complete the application and transcript acquisition process as soon as possible. Applicants will be notified of their provisional acceptance in a timely manner. Final admission into the program is contingent upon submission of satisfactory physical examination/immunization forms, drug screen, and a criminal background check.
Requirements for the Associate in Science Degree for Hospital-Based Radiographer graduates:
Pensacola State College provides a means for graduates of JRCERT accredited Hospital-based two-year programs who are currently registered Radiologic Technologist to pursue an Associate Degree. To qualify, applicants must submit an application to the College. Applicants must also submit an official transcript to the College and hold a current, unrestricted RT registration. Once applicants have completed the required general education courses, they would receive 62 credits and would be awarded the Associate in Science degree.
IS THIS FOR YOU
If you have scientific abilities, like to solve problems, like working with people, and have the ability to work with equipment, this career may suit you. People in this career may be described as analytical, curious, tactful, and sympathetic.
BEYOND GRADUATION
With experience and additional training, staff technologists may become specialists, performing CT scanning, ultrasound, angiography, and magnetic resonance imaging. Experienced technologists may also be promoted to supervisors, chief radiologic technologist, and, ultimately, department administrator or director. With additional education, available at major cancer centers, radiation therapy technologists can specialize as medical radiation dosimetrists. Radiographers and radiation therapists are required to fulfill 24 hours of continuing education every other year and provide documentation to prove that they are complying with these requirements.
RELATED CAREER OPPORTUNITIES
Primary Employers
Graduates from the Radiography program work in hospitals, and physicians' and radiological centers. Three out of five radiographers work in hospitals.
Occupations
Radiographers
Produce X-ray images of parts of the human body for use in diagnosing medical problems. They prepare and place the patient in the correct position between the radiation source and the image receptor, protecting body areas not to be exposed to radiation. After making the exposure, they evaluate the image. Experienced radiographers may perform more complex imaging tests such as fluoroscopy, magnetic resonance imaging (MRI), computed tomography scans (CT) and special procedures.
You May Also Be Interested In...