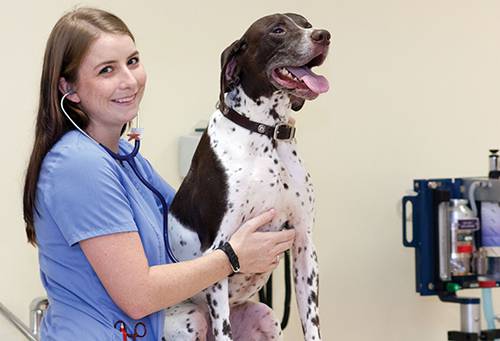 Contact the Pensacola State College Allied Health Department for assistance in planning your program of study.
View Course Requirements
ACCREDITED BY:

AVMA Committee on Veterinary Technician Education and Activities (CVTEA) 
SEARCH PROGRAMS
INTRODUCTION
The two year, full-time limited-access program prepares students to perform entry-level skills as a Veterinary Technician. Skills are mastered through classroom instruction and supervised laboratory instruction. Students will be assigned to a clinical work site throughout the program. The core courses of the program begin in August of each year. Prior to starting core courses students must have completed the following general education courses: ENC 1101 (English Composition I), MAC 1105 (College Algebra) and BSC1010 (Principles of Biology with BSC1010L, Principles of Biology Lab).
IS THIS FOR YOU
People who enter this career are often described as "doers;" they like physical hands-on activities and projects. They are good "thinkers," and like to analyze problems and look at different ways to solve them.
BEYOND GRADUATION
Veterinary Technicians and Technologists usually begin work as trainees in routine positions under the direct supervision of a veterinarian or a Certified Veterinary Technician (CVT). Entry-level workers whose training or educational background encompasses extensive hands-on experience with a variety of laboratory equipment, including diagnostic and medical equipment, usually require a shorter period of on-the-job training.
RELATED CAREER OPPORTUNITIES
Primary Employers
Graduates from the Veterinary Technology program work in veterinary clinics, shelters or rescue organizations, medical and pharmaceutical research facilities, wildlife rehabilitation facilities, zoological parks and governmental agencies.
Occupations
Veterinary Technicians
Care for clinical instruments and equipment, prepare animals for treatment or surgical procedures and fill prescriptions prescribed by the veterinarian. Veterinary Technicians complete routine laboratory tests, and record the results. They give medicines to animals, and perform post-operative medical treatment as needed.
Veterinary Technologists
Observe the behavior and condition of animals, and monitor their clinical symptoms. They maintain controlled drug inventory and related log books. They also perform laboratory tests on blood, urine, and feces, such as urinalyses and blood counts, to assist in the diagnosis and treatment of animal health problems. They collect, prepare, and label samples for laboratory testing, culture, or microscopic examination as well as assist professional staff with research projects in veterinary medicine, public health, or research laboratories.
Other Occupations
Laboratory Animal Caretaker
Veterinary Assistant
You May Also Be Interested In...