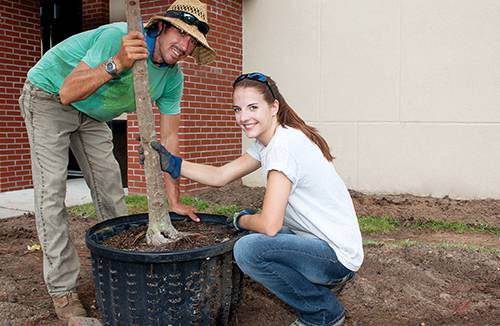 Contact the Pensacola State College Natural Sciences Department for assistance in planning your program of study.
View Course Requirements
SEARCH PROGRAMS
INTRODUCTION
This program of study offers the first two years of a baccalaureate degree program in forestry, wildlife ecology or resource conservation. Working in close cooperation with an academic advisor, Natural Resource Conservation students prepare programs of study according to their educational career goals, or they follow one of several specialized options. Natural Resource Conservation graduates find employment in government agencies, consulting firms and environmental education programs. This program was developed with agreement from several leading universities in forest studies including the University of Florida, Auburn University, University of Georgia and Mississippi State University. Two plus two scholarships between Pensacola State College and the University of Florida are also available each year to graduating high school seniors.
Students should consult with an advisor at the college or university they plan to attend for the specific courses recommended by that institution. We strongly encourage you to contact the Pensacola State College Biological Sciences Department for assistance in planning your program of study. If you plan to transfer to the University of Florida, Milton Campus, please contact Rita Thrasher, Associate Professor Biological Sciences, (850) 484-4473 or UF Academic Programs (850) 983-5216 to make sure you meet UF preadmission requirements.
Occupations
Soil and Water Conservationist
Plan or develop coordinated practices for soil erosion control, soil or water conservation, or sound land use.
Range Manager
Research or study range land management practices to provide sustained production of forage, livestock, and wildlife.
Park Naturalist
Plan, develop, and conduct programs to inform public of historical, natural, and scientific features of national, state, or local park.
Forester
Manage public and private forested lands for economic, recreational, and conservation purposes. May inventory the type, amount, and location of standing timber, appraise the timber's worth, negotiate the purchase, and draw up contracts for procurement. May determine how to conserve wildlife habitats, creek beds, water quality, and soil stability, and how best to comply with environmental regulations. May devise plans for planting and growing new trees, monitor trees for healthy growth, and determine optimal harvesting schedules.
Environmental Scientist and Specialist, Including Health
Conduct research or perform investigation for the purpose of identifying, abating, or eliminating sources of pollutants or hazards that affect either the environment or the health of the population. Using knowledge of various scientific disciplines, may collect, synthesize, study, report, and recommend action based on data derived from measurements or observations of air, food, soil, water, and other sources.
Other Occupations
Forestry and Conservation Science Teacher, Postsecondary
Environmental Science Teacher, Postsecondary
You May Also Be Interested In...