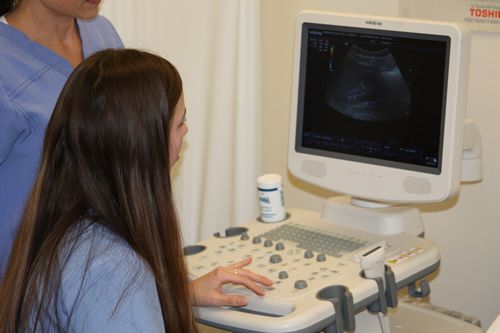 Contact the Pensacola State College Allied Health Department for assistance in planning your program of study.
View Course Requirements
SEARCH PROGRAMS
INTRODUCTION
The Associate in Science in Diagnostic Medical Sonography curriculum prepares the student to exercise initiative and independent judgment in the performance of sonographic examinations.
Each graduate is encouraged to pursue registry and is eligible to sit for the American Registry for Radiologic Technology (ARRT) sonography exam upon graduation. The American Registry for Diagnostic Medical Sonography (ARDMS) is another national registry that graduates can qualify for by different pathways. The information packet has more information about registration.
Special Requirements
Admission is limited by the availability of clinical assignments. All program requirements must be met before students are eligible for admission. One class per year is accepted. Seats are allotted to qualified students on a first qualified, first admitted basis. All qualified students will be accepted into the program but their seats may not be available in the year of their choice.
Admission for eligibility to the program includes a minimum grade of "C" or better and 2.75 GPA on Program Specific General Education Prerequisite Courses, College Application, Health Related Programs Application, and High School Transcript Standard Diploma.
Applicants who have completed a program in an allied healthcare field that is patient care-related at an associate degree level or higher may qualify for special admission requirements. The information packet details this articulation agreement.
Immediately prior to the clinical portion of the program, all students must satisfactorily pass a federal criminal background check, drug screen, physical examination/immunization record, and hold a current American Heart Association CPR for Health Care Provider card. There is a technical standard for the clinical portion of the program and other clinical restrictions may apply.
Details of the program requirements and all forms needed are available from the Health Programs Admissions Office on the Warrington Campus.
The Associate in Science in Sonography includes College Credit Certificate in:

     Diagnostic Medical Sonography Specialist

Students in this program are encouraged to apply to graduate with each certificate as the requirements are satisfied.
IS THIS FOR YOU
If you have scientific abilities, like solving problems and working with people, and have the ability to work with equipment, this career may suit you. People in this career may be described as analytical, curious, tactful, and sympathetic.
BEYOND GRADUATION
With additional training and experience, sonographers may become specialists in different areas of ultrasound. Experienced sonographers may also be promoted to supervisors, administrators or directors in departments or units. Some sonographers take jobs as sales representatives or instructors with equipment manufacturers.
RELATED CAREER OPPORTUNITIES
Primary Employers
Graduates from the Sonography (Diagnostic Medical Sonography) program may work in hospitals, physicians' offices, diagnostic imaging centers, ambulatory care facilities, research facilities, and mobile units.
Occupations
Sonographers
Also known as ultrasound technologists, use non-ionizing equipment to transmit high-frequency sound waves into the patient's body, then collect the reflected echoes to form an image. This image, which results from the reflection of sound from the body is viewed on a screen and may be recorded on film for permanent record and used in interpretation and diagnosis by physicians. Sonographers prepare and position the patient, obtain the images utilizing their skills and knowledge to collect the optimum diagnostic data, then present their study. Sonographers may specialize in abdomen and OB/GYN, echocardiography, or vascular technology
Other Occupations
Diagnostic Sonographer
Echocardiographer
General Sonographer
Vascular Technologist
You May Also Be Interested In...