Physical Therapist Assistant Associate in Science Degree (AS) Information
View Course Requirements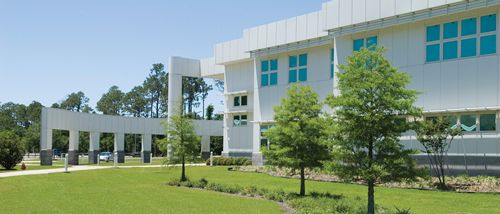 Contact the Pensacola State College Allied Health Department for assistance in planning your program of study.
Documents & Links
Search For Another Program
Introduction to the Physical Therapist Assistant Associate in Science Degree (AS) Program
The physical therapist assistant is a skilled technical health care worker who, under the supervision of a registered physical therapist, carries out a planned patient care program. Duties of the physical therapist assistant include: training patients in exercise and activities of daily living; conducting treatments utilizing special equipment; assisting in performing tests, evaluations and treatment procedures; and observing the patient's responses and reporting to the supervising physical therapist.
Special Admissions Requirements
Enrollment in the program is limited. The number of students in each class will be determined by the availability of space, equipment, qualified faculty and hospital and clinical facilities necessary for a meaningful education. Only one class per year is accepted. Program acceptance is based on selection from all qualified applicants meeting the minimum criteria on a first-qualified/first served basis. After the allotted seats for each class are filled, the applicants meeting the minimum criteria will be guaranteed a seat in the next available class. All applicants who meet the established criteria will be accepted into the program. However, not all will be guaranteed seats in the class of their choice if the application is not completed in a timely fashion. Minimum requirements for eligibility include high school diploma or GED. Applications for both the College and program must be complete and the appropriate transcripts must be on file. Applicants must have a GPA of 2.5 or higher and have completed prerequisite course work with "C's" or better. Final admission to the program is contingent upon submission of a satisfactory federal criminal background check and a drug screen. Admissions information packets are available on the Pensacola State College website.
Is This For You?
People who enjoy this career prefer working with people rather than data and things. They normally have leadership and good interpersonal communication skills. People in this career are sometimes described as energetic, patient, and understanding
Beyond Graduation . . .
With the increasing number of individuals with disabilities or limited function, the demand for services of physical therapist assistants will tend to rise. The large baby-boom generation is entering the prime age for age-related infirmities, heart attacks and strokes, further increasing the demand for physical therapy and rehabilitation. In addition, future medical developments will require that PTAs stay current with these advancements in care. Most employers recognize this need for continuing education and offer opportunities for continued professional development.
Related Career Opportunities
Primary Employers
Graduates from the Physical Therapist Assistant program work in chiropractors' and physical therapists' offices, offices and clinics of medical doctors, hospitals, nursing homes, rehabilitation centers, and home health care services.
Occupations
Physical Therapist Assistants Carry out planned physical therapy programs under the direction and supervision of a licensed physical therapist. Using techniques such as therapeutic exercise, therapeutic massage, and treatments involving heat, cold, water, light, electricity, traction, sound, or ultrasound, physical therapist assistants help restore physical functions to patients with impaired use of their muscles, nerves, joints, and bones. They instruct, motivate, and assist patients with functional activities, and assist physical therapists with patient evaluation. Physical therapist assistants are employed in a variety of health care settings.
Student Outcomes
Pensacola State College Physical Therapist Assistant Program Student Outcomes This program is accredited by the Commission on Accreditation in Physical Therapy Education of the American Physical Therapy Association through 2024.
| | | | | |
| --- | --- | --- | --- | --- |
| | Graduation Rate: | Licensing Exam Pass Rate: First Time | Licensing Exam Pass Rate: Ultimate | Employment Rate: |
| 2018-2019 | 81.2% | 57.1% | 78.6% | 100% |
| 2019-2020 | 75.0% | 100% | 100% | 100% |
| 2020-2021 | 82.4% | 76.9% | 84.6% | 100% |
| 2-year avg: | 78.8% | 88.45% | 92.3% | 100% |
The Physical Therapist Assistant program at Pensacola State College is accredited by the Commission on Accreditation in Physical Therapy Education (CAPTE) 3030 Potomac Ave., Suite 100, Alexandria, Virginia 22305-3085; telephone: 703-706-3245 email: accreditation@apta.org website: http://www.capteonline.org. If needing to contact the program/institution directly, please call 850-484-2301 or email msowell@pensacolastate.edu.
Employment Trends
For more information regarding first-year earnings for degree completers and student debt accumulation download or view the Economic Security Report of Employment and Earning Outcomes Click Here, published by the Department of Economic Opportunity.
Escambia/Santa Rosa Counties
Occupation
Physical Therapist Assistants
2015 Cur. Openings
135
2023 Prj. Openings
175
Est. Annual Openings
7.9
2015 Avg. Median Salary
$59,067.48
Okaloosa / Walton Counties
Occupation
Physical Therapist Assistants
2015 Cur. Openings
47
2023 Prj. Openings
66
Est. Annual Openings
3.4
2015 Avg. Median Salary
$58,608.62
All Florida Counties
Occupation
Physical Therapist Assistants
2015 Cur. Openings
4850
2023 Prj. Openings
6392
Est. Annual Openings
297.5
2015 Avg. Median Salary
$60,736.05
You May Also Be Interested In...