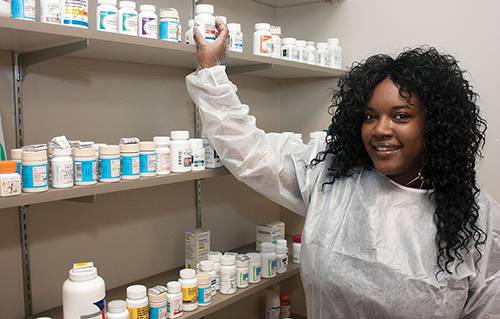 Contact the Pensacola State College Allied Health Department for assistance in planning your program of study.
View Course Requirements
ACCREDITED BY: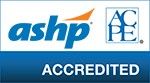 The Associate in Science degree in Pharmacy Management and the Applied Technology Diploma (ATD) in Pharmacy Technician are accredited by the American Society of Health-System Pharmacists (ASHP)/Accreditation Council for Pharmacy Education (ACPE).
RELATED DOCUMENTS
RELATED LINKS
SITE LINKS
SEARCH PROGRAMS
INTRODUCTION
The Associate in Science (A.S.) degree in Pharmacy Management expands on the curriculum of the Pharmacy Technician Applied Technology Diploma to prepare students for careers as Pharmacy Technician Specialists. Students can enroll directly into the A.S. degree program or transition from the Pharmacy Technician ATD program.
Upon successful completion of the program, graduates earn an Associate in Science degree and are equipped to assume entry-level management responsibilities in a pharmacy. Graduates are prepared for employment in hospitals, long term care facilities, retail stores, drug manufacturing companies, wholesale drug houses and health maintenance organizations.
IS THIS FOR YOU
People who enter this career are very organized and enjoyed hands-on work. They also enjoy working as a part of a team.
BEYOND GRADUATION
Pharmacy Management graduates work as a Pharmacy Technician and assume entry-level management responsibilities in a pharmacy. Pharmacy Technicians are required to obtain a State of Florida registration and encouraged to take a national
certification exam. Registration and certification requirements vary by state.
RELATED CAREER OPPORTUNITIES
Primary Employers
Graduates of the Pharmacy Management program work as Lead Pharmacy Technicians in hospitals, clinics, pharmacies, and grocery stores.
Occupations
Pharmacy Technicians
Work under the supervision and direction of a registered pharmacist. They must maintain good organizational skills in an environment where keeping things neat and organized is essential for patient safety. Technicians receive and store incoming supplies, and maintain proper storage and security conditions for drugs. They answer telephones, responding to questions or requests, and help customers by answering simple questions or referring them to the pharmacist. They receive written prescription or refill requests and verify the information. They file prescriptions that have been filled and establish and maintain patient profiles, including lists of medications taken by individual patients. In institutional settings, responsibilities can also compounding medications, compounding intravenous fluids for injection, and specialized patient treatments under the direct supervision of a pharmacist. Pharmacy technicians can also assist the pharmacist by reviewing current medications with patients and clarifying how the patients are taking medications at home to streamline the pharmacist's consultation with the patient.
Medical and Health Services Manager
Plans, directs or coordinates medicine and health services in hospitals, clinics, managed care organizations, public health agencies, or similar organizations
You May Also Be Interested In...