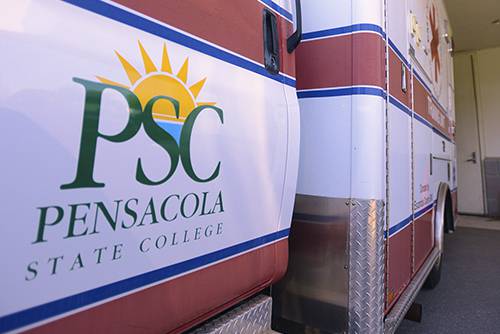 Contact the Pensacola State College Allied Health Department for assistance in planning your program of study.
View Course Requirements
ACCREDITED BY:

The Pensacola State College paramedic program is accredited by the Commission on Accreditation of Allied Health Education Programs (www.caahep.org) upon the recommendation of the Committee on Accreditation of Educational Programs for the Emergency Medical Services Professions (CoAEMSP).
Commission on Accreditation of Allied Health Education Programs 727-210-2350 www.caahep.org
To contact CoAEMSP:
214-703-8445
RELATED DOCUMENTS
RELATED LINKS
SITE LINKS
SEARCH PROGRAMS
INTRODUCTION
The four semester certificate program is designed to provide those responsible for pre-hospital emergency care the opportunity to become skilled in advanced life support measures.
Special Admission Requirements
Admission is limited by special accreditation requirements and/or the availability of clinical assignments; therefore, students seeking admission to the program must complete applications to both the College and the program. Application packets are available from the Health Admissions Office on the Warrington campus or the Pensacola State College website at https://www.pensacolastate.edu/healthprograms. All application requirements must be completed by the established deadlines before students will be considered eligible for admission to this program.
Minimum requirements for eligibility to the program include high school diploma or GED, documentation of unencumbered current Florida EMT Certification, and a current (one of the following):
American Heart Association BLS provider
American Red Cross Professional Rescuer
American Safety and Health Institute CPR Pro
Admission to this program is based upon receipt date of completed application requirements. Once a particular class is full, the remaining qualified applicants are automatically listed as alternates for that class. If the applicant is not seated he or she will be offered admission in the next available class.
It is also strongly encouraged that the paramedic applicant complete the Anatomy and Physiology requirement prior to entry into the program.
BSC1080              Essentials of Anatomy and Physiology            3 credits               available online
BSC1080L            Essentials of Anatomy and Physiology           1 credit                available online
IS THIS FOR YOU
Student Performance Standards
Students must possess sufficient physical, motor, intellectual, emotional and social/communication skills to provide for patient care and safety, and the utilization of equipment. Performance standards for Emergency Medical Services students (Emergency Medical Technician-Basic and Paramedic) are based on information from the United States Department of Transportation Job Task Analysis.
Physical Demands
Aptitudes required for work of this nature are good physical stamina, endurance, and body condition that would not be adversely affected by frequently having to walk, stand, lift, carry, and balance at times, in excess of 125 pounds. Motor coordination is necessary because over uneven terrain, the patient's, the Paramedic's, and other workers' well being must not be jeopardized.
Critical Thinking
Critical thinking sufficient for emergency medical judgment:; Independent judgments in a physician's absence; Determine treatment priorities; Make quick decisions.
Interpersonal
Interpersonal abilities sufficient to interact with individuals, families and groups from a variety of social, emotional, cultural, and intellectual backgrounds: Life and death situations; Family stress of patients illness; Peer stress from critical incident; Cultural diversity in reactions to illness or injury.
Communication
Communication abilities sufficient for interaction with others in verbal and written form: Radio report of patient condition; Comprehensive written reports of patient condition and treatment; Verbal report to other health care providers.
Mobility
Physical abilities sufficient to climb, stoop, crouch, kneel, lift 150 lbs., drag, crawl, balance, reach, push, carry, bend, walk, run, shuffle: Work in natural and manmade disasters; Move patients from incident to safety.
Motor Skills
Gross and fine motor abilities, finger dexterity, vision and finger and hand movements sufficient to provide safe and efficient emergency care: Tie a knot, bandage; Initiate IVs, Give injections; Pick up small objects; Write with a pen. Hearing Auditory ability sufficient to monitor and assess health needs; Auscultate breath sounds, heart tones.
Visual
Visual ability sufficient to work in dark or dimly lit, bright light and have spatial aptitude and form perception and color discrimination: Reading and writing reports; Visualize mechanism of injury in relation to patient's condition; Describe size and shape of wound; Describe patient's skin color; Determine fine detail in EKG rhythms.
Tactile
Tactile ability sufficient for physical assessment: Perform palpation. See motor skills.
Environmental
Ability to provide patient care in a variety of locations and conditions: Deliver patient care in all weather conditions, in water, mud, roadways, fields, buildings, high and low elevations, in hot or cold air temperatures.
Occupations
Paramedic
Assess injuries, administer emergency medical care, and extricate trapped individuals. Transport injured or sick persons to medical facilities.
Health Specialties Teacher, Postsecondary
Teach courses in health specialties, in fields such as dentistry, laboratory technology, medicine, pharmacy, public health, therapy, and veterinary medicine.
STUDENT OUTCOMES
CAAHEP Accredited Paramedic Programs and CoAEMSP Letter of Review (LoR) Programs track and report outcome measures annually to the Committee on Accreditation for the Emergency Medical Services Professions (CoAEMSP). The most current CoAEMSP Annual Report was for the calendar year 2021. The most recent success rate for the National Registry of EMT Paramedic/State Cognitive exam was 76.9% (Class of 2021 1st, 2nd,3rd attempt).
The most recent positive placement rate for graduates (Class 2021) was 100%. Positive placement is defined by the CoAEMSP as 'Employed full or part-time in a related field and/or continuing his/her education and/or serving in the military'. Positive placement is measured at the completion of the program.
The most recent retention rate was 72.2% (Class of 2021)
You May Also Be Interested In...