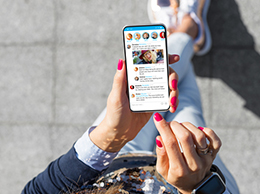 Contact the Pensacola State College Visual Arts Department for assistance in planning your program of study.
View Course Requirements
SEARCH PROGRAMS
INTRODUCTION
The purpose of this program is to provide students with a foundation in interactive media techniques and production; students will gain competency in web-based and interactive design.
Program Requirements:
Credit Hours
GRA 2151C
Computer Graphics I
3 cc
ART 1201C
Two-Dimensional Design
3 cc
GRA 2152C
Computer Graphics II
3 cc
GRA 2190C
Graphic Design I
3 cc
GRA 2191C
Graphic Design II
3 cc
GRA 2206C
Typography
3 cc
ART 1301C
Portfolio and Resume Development
3 cc
GRA 2721C
Creative Web Design
3 cc
Total Credit Hours for IMP-CT:
24 cc
Four Terms to Complete Certificate
You May Also Be Interested In...