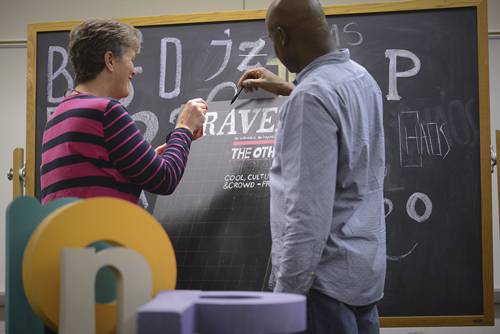 Contact the Pensacola State College Visual Arts Department for assistance in planning your program of study.
View Course Requirements
SEARCH PROGRAMS
INTRODUCTION
The Associate in Science in Graphics Technology (Graphic Design) provides students with a broad foundation in all areas of graphic design and prepares students for careers in graphic design fields. This degree program is also a preferred academic pathway into the Dr. Marjan Mazza Bachelor of Applied Science in Business and Management, Graphic Design Management Concentration degree program. This Associate in Science degree also serves as a transfer degree for individuals wishing to continue their education toward an advanced degree at a professional art school. Additional general education coursework may be required for transfer to a four-year college. Contact the four-year school for information.
Courses cover practical and theoretical problems of visual communication from the inception of an idea to its final presentation to the printer or client. Concepts and execution are covered with strong emphasis on computer assistance, drawing skills, and technical developments in the field. Some professional internships are available for advanced students.
The Associate in Science in Graphics Technology includes College Credit Certificates in:

     Graphic Design Production
     Graphic Design Support
     Interactive Media Production
     Interactive Media Support

The student is encouraged to apply to graduate with the certificate as the requirements are satisfied.
We strongly encourage you to contact the Visual Arts Department for assistance in planning your program of study.
IS THIS FOR YOU
Persons entering this career need to have artistic skills, enjoy creating original work, and have a good imagination. They must like to work with people and ideas more than things and have a high degree of organizational skills. They may be described as sociable, imaginative, and idealistic.
BEYOND GRADUATION
Graphic artists may advance to assistant art director, art director, design director, and in some companies, creative director of an art or design department. Some may gain enough skill to succeed as a freelancer or may prefer to specialize in a particular area. Others decide to open their own businesses.
Many students will continue their education and training by enrolling in Pensacola State College's Bachelor of Applied Science in Supervision and Management program with an emphasis in Graphic Design.
RELATED CAREER OPPORTUNITIES
Primary Employers
Graduates from the Graphic Design Technology program work in advertising agencies, publishing firms and the printing industry or may be self-employed.
Occupations
Graphic Artists
Use an almost limitless variety of methods and materials such as print and film media, photography, computers, digital scanning, type, or any other media including oils, acrylics, watercolors, pastels, pencils, magic markers, pen and ink, silkscreen and clay to create images of persuasive and original power. They design according to specifications and guidelines set for the project. Graphic artists integrate findings with personal interests and knowledge of design methods and materials. Their specialties may include illustration, type design, layout, computer, photography, and copywriting.
Graphic Designers
May create packaging and promotional displays for a new product, the visual design of an annual report or brochure, or a distinctive logo for a product or business. They also help with the layout and design of magazines, newspapers, journals, and other publications, and create graphics for television. In advertising, graphic designers develop the illustrative material for persuasive, eye-catching advertisements based on the advertising strategy and the copy supplied by the copywriter. Graphic designers may function as art directors who help to manage design, art, and copy to create a unified graphic image for a client.
Illustrators
Paint or draw pictures for books, magazines, and other publications, films, and paper products, including greeting cards, calendars, wrapping paper, and stationery. Many create a variety of illustrations, while others specialize in a particular field.
Fashion artists draw illustrations of women's, men's, and children's clothing and accessories for newspapers, magazines, and other media.
Cartoonists draw political, advertising, social, and sports cartoons. While some cartoonists illustrate the ideas created by others, most cartoonists have humorous, critical, or dramatic talents in addition to drawing skills.
Animators who work in the motion picture and television industries draw the large series of pictures which, when transferred to film or tape, form animated cartoons.
Other Occupations
Assistant Graphic Design
Courtroom Artist
Display Artist
Developer Design Artist
Junior Graphic Designer
Book Designer
Digital Pre-Publisher
Sign Designer
Calligrapher
Technician/Specialist Technical Illustrator
You May Also Be Interested In...