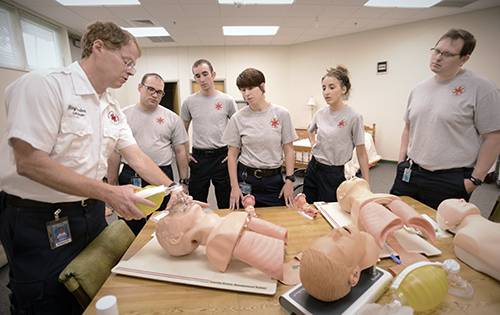 Contact the Pensacola State College Allied Health Department for assistance in planning your program of study.
View Course Requirements
ACCREDITED BY:

The Pensacola State College Paramedic Program is accredited by the Commission on Accreditation of Allied Health Education Programs (www.caahep.org) upon the recommendation of the Committee on Accreditation of Educational Programs for the Emergency Medical Services Professions (CoAEMSP).
Commission on Accreditation of Allied Health Education Programs
25400 US Highway 19 N., Suite 158
Clearwater, FL 33763
727-210-2350
www.caahep.org
To contact CoAEMSP:
8301 Lakeview Parkway
Suite 111-312
Rowlett, TX 75088
214-703-8445
FAX 214-703-8992
www.coaemsp.org
RELATED DOCUMENTS
SITE LINKS
SEARCH PROGRAMS
INTRODUCTION
The EMS-AS degree program completes the academic progress of a graduate of an Emergency Medical Technician Program and a Paramedic Certificate with 16 hours of general education courses.
Minimum requirements for eligibility to the program include high school diploma or GED, satisfactory scores on Nelson Denny Reading; documentation of unencumbered current Florida EMT Certification, and a current CPR card from one of the following:
American Heart Association BLS provider
American Red Cross Professional Rescuer
American Safety and Health Institute CPR Pro
Students in the EMS–AS have generally completed 1) all general education courses and the EMT–ATD program, or 2) have completed the EMT–ATD program and are enrolled in the Paramedic Program and completing the general education requirements.
The Associate in Science in Emergency Medical Services includes the College Credit Certificate in:

The student is encouraged to apply to graduate with the certificate as the requirements are satisfied.
The interested student should contact the Department of Nursing & Emergency Medical Services for assistance in planning the program of study.
IS THIS FOR YOU
People who prefer this career usually have mathematical and scientific abilities, like to work as a team member, have good leadership skills, and can physically and mentally cope with high levels of stress. They are described as optimistic, extroverted, and self-confident.
BEYOND GRADUATION
This program teaches current EMS Professionals managerial skills. EMS Professionals with an AS degree can become a supervisor, operations manager, administrative director, or executive director of emergency services.
Many students will continue their education and training by enrolling in Pensacola State College's Baccalaureate Degree of Applied Science with an emphasis in Public Safety/Public Service.
RELATED CAREER OPPORTUNITIES
Primary Employers
Graduates from the Emergency Medical Services program work for hospitals, private ambulance services, and municipal fire, police, or rescue squad departments.
Occupations
Emergency Medical Services
Involves planning, organizing, coordinating and supervising a medical emergency service program. Graduates coordinate the activities of persons involved in the rescue, transportation, and care of accident or catastrophe victims, and others requiring emergency medical assistance. They manage administrative requirements such as staffing, maintaining records of facilities and personnel and periodically inspecting facilities. They develop, plan, and  participate in training programs for ambulance and rescue personnel.
Other Occupations
Emergency Medical Services Coordinator
Paramedic
EMS Instructor
You May Also Be Interested In...