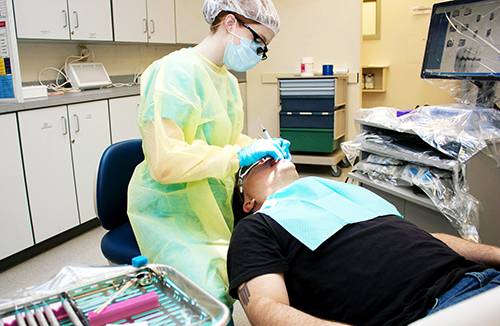 Contact the Pensacola State College Allied Health Department for assistance in planning your program of study.
View Course Requirements
ACCREDITED BY:
The program in Dental Hygiene is accredited by the Commission on Dental Accreditation and has been granted the accreditation status of "approval without reporting requirements." The Commission is a specialized accrediting body recognized by the United States Department of Education. The Commission on Dental Accreditation can be contacted at (312) 440-4653 or at 211 East Chicago Avenue, Chicago, IL 60611-2678.
The Commission's web address is: http://www.ada.org/en/coda.
SEARCH PROGRAMS
INTRODUCTION
A two-year curriculum designed to prepare students to master clinical competencies and prepare for all of the roles of a dental hygienist. Graduates receive an Associate in Science degree in dental hygiene and are eligible to apply to sit for the state board examination in any state in which they desire to practice.
Program graduates may be able to pursue the Bachelor of Science degree at an institution offering the degree.
The dental hygiene program is fully accredited by the American Dental Association Commission of Accreditation.
Special Admission Requirements
Admission to this program is limited by admission requirements and the availability of clinical space. Therefore, students seeking program admission must complete applications to both the College and the program. Students should not self-advise. Courses are designed to be in sequence. Continued progress in the dental hygiene program depends upon successful completion of courses in this sequence. Application packets are available from the Health Admission Office or the Pensacola State College website at www.pensacolastate.edu.
Admission for eligibility to the program includes a minimum grade of "C" or better and 2.75 GPA on Program Specific General Education Prerequisite Courses, College Application, Health Related Programs Application, and High School Transcript Standard Diploma.
When applicants have completed all sections of the application process and meet the minimum criteria, they will move to candidate status and are assigned a ranking number by the date on which they completed the final requirement. Students are selected in that rank order. Therefore, the sooner applicants complete the requirements, the sooner they move to candidate status and the higher their ranking on the list. Contact the Allied Health department at (850) 484-2308 for further details. The program begins each May.
Special Program Requirement
Students must complete all courses in the Dental Hygiene curriculum with a grade of C or higher.
IS THIS FOR YOU
People in this career like to work with people, on a one-on-one basis, more than with things or ideas. They usually have mathematical and scientific abilities and need good eye and hand coordination and an ability to work with small instruments. They may be described as practical, curious, and sociable.
BEYOND GRADUATION
Dental Hygienists are required to sit for a written national board and also a clinical state board, and must be licensed by the state in which they practice. Graduates of the Dental Hygiene program at Pensacola State College are eligible to sit for the state board examination in any state in which they desire to practice.
RELATED CAREER OPPORTUNITIES
Primary Employers
Graduates from the Dental Hygiene program work mainly in private dental offices. Others work in public health agencies, school systems, hospitals, armed forces, and clinics.
Occupations
Dental Hygienists
Licensed professionals who provide preventive dental care and instruct patients how to practice good oral hygiene. Depending on state legal requirements, they provide a wide range of services. Hygienists perform patient health screenings, clean teeth, apply fluoride and sealants, expose and develop dental radiographs, provide nutritional counseling and preventive health education. Dental hygienists use a variety of methods in the course of their work such as hand, rotary and ultrasonic instruments. Models of teeth are used to explain oral hygiene procedures to patients.Many dental hygienists work part-time and hold multiple jobs.
Health Specialties Teacher, Postsecondary
Teach courses in health specialties, in fields such as dentistry, laboratory technology, medicine, pharmacy, public health, therapy, and veterinary medicine.
You May Also Be Interested In...