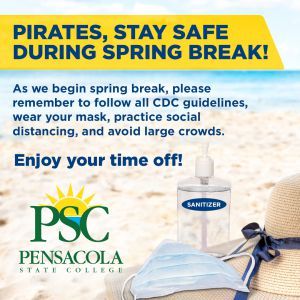 Published: 03-11-2021
Pensacola State College administrators urge students to stay safe during Spring Break
Troy Moon, Pensacola State College
A year ago, Pensacola State College students and employees went on spring break. When the week was over, they didn't come back to campus. At least not right away as the COVID-19 pandemic forced the College to transition to online classes for the rest of the spring term, with students and employees – at least most employees – working and studying from home.
Now, Pensacola State College students and employees are getting ready for another spring break. And since students, faculty and employees will be returning to their respective campuses and centers after the break, there is concern that people letting their guard – and masks – down, could trigger a spike in positive COVID-19 cases at PSC.
"I think that today, we're in an excellent place regarding COVID-19," said Pensacola State College President Ed Meadows. "And we'll remain in good shape as long as students and employees don't bring COVID-19 back after the spring break."
There is evidence that academic breaks contribute to higher positive COVID-19 cases at PSC.
After returning on Jan. 4 from the winter break, COVID-19 cases at PSC peaked. The last full week before the winter break, there were five employees or students who tested positive for COVID-19. By Jan. 11, there were 23 who tested positive for the week. The next week, the College reported 23 more cases. By Jan. 18, the College reported 28 positive cases for the week, followed by 27 the following week. By mid-February, positive cases were down to about five a week. The first week of March, the College reported six positive cases.
"As soon as we got back in January, the number more than doubled and stayed like that for a few weeks," said Tom Gilliam, PSC Vice President of Administrative Services and General Counsel and the person responsible for tracking COVID-19 cases at the College. "But the last few weeks, we've been down again."
The College is doing its part to keep COVID-19 from spreading on campus, Meadows said, and will continue following CDC guidelines regarding masks, social distancing, handwashing and other cautionary safeguards.
"I think we have done all we can do to ensure the safety of our students, faculty and staff," Meadows said. "The vast majority of positive cases that have occurred which impacted students and employees came not from within the College, but from exposure from outside the College."
Since the beginning of the pandemic, PSC has initiated numerous efforts to combat the spread of COVID-19, including the purchase of:
31,000 face masks
4,000 face shields
500 N95 masks
410 Plexiglass shields
500 gallons of hand sanitizer
500 25-count packs of hand wipes
5,000 100-count canisters of disinfecting wipes
1,500 80-count Lysol wipe packs
2,000 keyboard skins
240 cans of spray disinfectant
300 sanitizing stations
510 refills for sanitizing stations
200 100-count boxes of Latex or Nitrile gloves
Many of those materials are found at one of the 300 sanitizing stands found throughout the College's campuses and centers.
PSC has also installed numerous purifying air filters across campuses and centers to add another layer of COVID-19 protection.
At the beginning of the pandemic, the College shifted to online classes for the summer. More face-to-face classes were added in the fall and for the current spring semester, and Meadows said the number of face-to-face classes offered for the upcoming fall semester will depend on student demand.
But Meadows is optimistic about the coming months, noting a wider availability of the COVID-19 vaccine. In Florida, Gov. Ron DeSantis has lowered the age for vaccine eligibility to 60 years of age. Previously, the eligibility age was 65 years of age.
The vaccine is also available to anyone with an underlying health condition, regardless of age. Those with underlying health conditions should consult their physicians to receive a statement detailing the health conditions.
"I think by the end of April, and certainly by the end of May, we will see a preponderance of availability of the vaccine to everyone," Meadows said. "But that doesn't lessen our need and commitment to follow CDC guidelines, and sometimes exceed those guidelines, in the interest of safety."