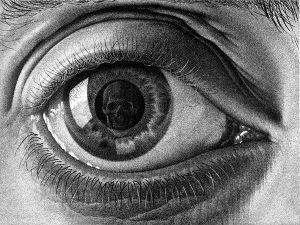 Published: 05-30-2019
The chilling and thrilling comedy, "A Woman With Many Eyes," will be staged at 7 p.m. Saturday, June 8, in Pensacola State College's Ashmore Auditorium.
Written and directed by award-winning actor and director Lawrence C. Gamell Jr., the free performance is open to the public. However, seating is limited and available on a first-come, first-seated basis. Doors will open at 6:30 p.m. in the auditorium, Building 8, located at 1000 College Blvd. on the Pensacola campus.
Sponsored by the PSC Black History/Multicultural Committee, the play's cast includes Gamell, Ahmed Alshakmi, Josephine Mayo and Jessica McMillan.
"A Woman With Many Eyes" centers on Anisha Kifo, who has been committed to a hospital for the criminally insane for killing her husband. Though, there is no doubt that Kifo is guilty of the crime, there are many unanswered questions because she suffers from a multi-personality disorder.
When Dr. Prosser is called in to examine the prisoner, she uses hypnosis to open Kifo's mind, and is shocked by what she learns. Some of Kifo's flashbacks have a spark of comedic flavor, while others take the audience down a dark tunnel.
"'A Woman With Many Eyes' is a bit of the 'Twilight Zone' mixed in a dark comedy," said Gamell who has written and directed "MLK and Mandela," "Past Twilight," "The Me In You," and "The Many Lives of CT Jones."
"It is sure to give you a chill, a thrill and tap on your funny bone while taking you down a rabbit hole."
For more information about "A Woman With Many Eyes," call (850) 484-1754.
If you go
What: "A Woman With Many Eyes"
When: 7 p.m. Saturday, June 8
Where: Ashmore Auditorium, Building 8, Pensacola State College campus.
Admission: Free