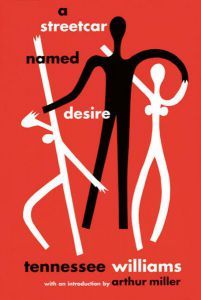 Published: 02-21-2017
The Pulitzer Prize winning drama, "A Streetcar Named Desire," heats up the stage March 2 through 5 at Pensacola State College's Ashmore Auditorium, Building 8, on the Pensacola campus.
Show times are 7:30 p.m., for Thursday, Friday and Saturday performances and 2:30 p.m., for the Sunday matinee.
Set in the New Orleans French Quarter soon after World War II, "Streetcar" deals with financial ruin, lost love and human frailties. It is summertime, the heat is oppressive and Blanche DuBois arrives unexpectedly from Mississippi to visit her sister Stella. When Blanche meets Stella's husband, Stanley Kowalski, for the first time, a complicated and destructive relationship begins.
Almost seven decades after its Broadway premiere, this Tennessee Williams play remains a compelling and powerful portrait of desperation that addresses issues still relevant today.
Cast members are Ashley McGlothren, Blanche; Gracie Miller, Stella; Keegan Sweet, Stanley; Loren Stone, Mitch; Jessica Freeman, Eunice; Troy Craig, Steve; Justin Nieves, Pablo; Braden Ellington, collector, Ashley Kellenberger, Mexican woman; William Tucker, doctor; and Tykia Stewart, nurse. Ensemble members are Kidada Brown, Tyler Hamilton and Cecelia Kuhn.
Production crew members are Rodney Whatley, director; Ryan Ward, assistant director, Bob Gandrup, technical director; and LaVonne French, costumer.
Ticket prices are $11 for reserved admission; $9 for seniors 60 years and older, children and non-PSC students; $7 for PSC staff/faculty/retirees, PSC Alumni Association members and PSC Seniors Club members; and free for PSC students.
Purchase tickets online at www.pensacolastate.edu/lyceum or at the Lyceum Box Office, Building 8, Room 861, from 8:30 a.m. to 4 p.m., Monday through Friday. Tickets are also available at the door one hour before a performance.
For reservations or more information, call the Lyceum Box Office at 850-484-1847.