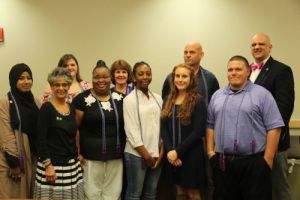 Published: 11-29-2017
Eight Pensacola State students were initiated into Alpha Gamma Eta, the college's chapter of Kappa Delta Pi, on Wednesday, Nov. 15.
An international honor society in education, Kappa Delta Pi was founded in 1911 to foster excellence in education and promote fellowship among those dedicated to teaching.
Pensacola State initiates are:
Cory Barnes
Jiban Begum
Annternett Campbell
Thalezondra Hill-Dowdy
Kayla Pope
Mark Raab
Carol Ann Smith
Krystal Thompson
To be invited to join Kappa Delta Pi, education majors must have at least 30 credit hours and maintain at least a 3.0 grade point average, said Betsy Werre, Pensacola State professor and the society's campus co-adviser.
"Membership is extended to all education majors – from PreK through high school and college," she said. "Kappa Delta Pi's mission is to advance quality education by inspiring teachers to prepare all learners for future challenges. The honor society's vision is quality learning for all."