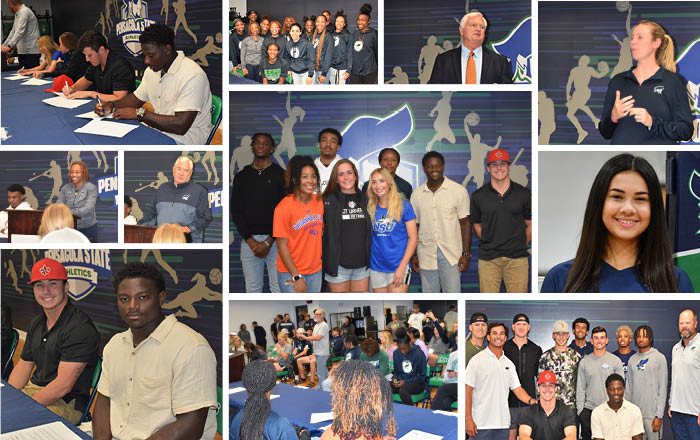 Pensacola State College baseball player Andreaus Lewis II is going to Manhattan College in New York City to continue his collegiate playing career and to study business and finance. Perfect, since Manhattan is the world's capital of business and finance.
Never mind that Manhattan College isn't actually in Manhattan – it's in the adjacent Bronx borough. It's still a perfect fit.
"I went for my visit in December, and that was it,'' said the Pirate catcher. "It wasn't even that cold – not that different from (his home) Georgia. But all the big buildings were a lot different. In Georgia, there's a lot more open space. But I enjoyed it and since I'm studying business, it's a perfect place for me."
Lewis is one of eight Pensacola State College student-athletes who struck major deals on April 24 when they committed to Division I, Division II, NAIA and NAICU colleges and universities.
The signing ceremony was held in the Donn Peery Room in Hartsell Arena on the Pensacola campus.
"This is truly the most exciting day of the year for me as a coach and administrator said Bryan Lewallyn, PSC Athletic Director and head baseball coach, speaking at the ceremony. "What we're celebrating today are the student-athletes who have grown and found success at PSC and will now move on and continue their education and playing careers."
The student-athlete signees are:
Baseball Players
Colton Ryals committed to the University of Louisiana Lafayette, and Andreaus Lewis II, to Manhattan College. An infielder and outfielder, Ryals is from Blountstown and a graduate of Blountstown High School. In 2022, he was selected to the FCSAA All-Panhandle Conference Second Team. A catcher, Lewis is from Atlanta and a graduate of Winder-Barrow High School.
Men's Basketball
Men's basketball players Zondrick Garrett and Nieagell Sturkey signed letters of intent to Texas A&M University-Commerce and Harris-Stowe State University, respectively. A forward for the Pirates, Garrett is from Oxford, Alabama, and is an Oxford High graduate. After transferring from the University of South Alabama, Garrett earned First Team All-Panhandle Conference honors during his first season with the Pirates. Sturkey, a forward, is from Chattanooga, Tennessee, and a graduate of Tyner Academy. He also attended NTSI Prep.
Softball Players
Softball players Tori Ratigan and Emma Brown committed to Nova Southeastern University and Dordt University, respectively. A shortstop and second baseman, Ratigan is from Spring Hill and is a Nature Coast Technical High School graduate. As a freshman, Ratigan was named to the FCSAA First Team All-State, FCSAA All-Panhandle Conference First Team, and the Second Team NFCA All-Region Team. She also was named to the FCSAA All-Panhandle Conference First Team in her sophomore year. Brown, a shortstop, is from Clarksville, Tennessee, and a graduate of Rossview High School.
Women's Basketball
Women's basketball player Ja'Miyah Bryant who signed with Hofstra University. A guard and forward, Bryant is from Pensacola and a Booker T. Washington High School graduate. In 2022, she was selected to the FCSAA All-Panhandle Conference Second Team.
Volleyball Players
Volleyball player Tiana Curry who committed to Savannah State University. Curry is from Tallahassee and a graduate of Lincoln High School. Curry also was selected as a 2023 PSC Student Excellence Awards Program Scholar for Athletic Training. Julia Nevue signed with the College of Coastal Georgia after the fall 2022 semester. Nevue, majoring in nursing, was the starting libero for the Pirates for two seasons. Lewallyn and PSC softball coach/associate athletic director Lyndsey Angus acknowledged the student-athlete's academic and athletic achievements.
"You're all on track to graduate, and we're very proud of that,'' Angus said. She then noted that Ratigan had a 3.4 grade point average. It didn't come easy having to balance softball and academic responsibilities. "I had to bring (the grade point average) up,'' she said. "I put a lot of work into it. I'm glad I did."