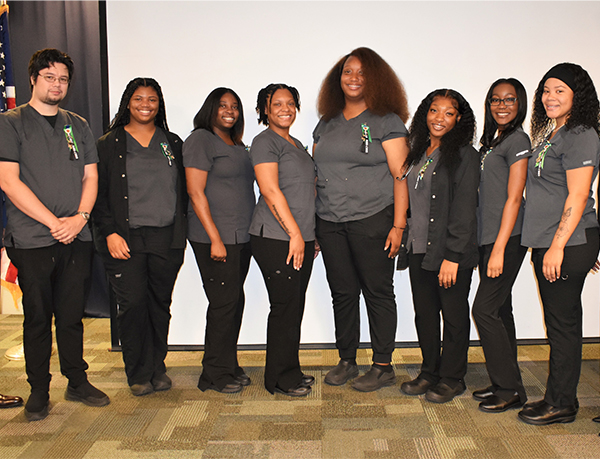 Eight Pensacola State College Medical Assisting Program students were pinned during an Aug. 10 ceremony on the Warrington campus.
Nakeria Bryant, Mei'Schelle Daniel, LaCora Holmes, Oddyssey Paige, Chineka Rudolph, Armani Walker, Ja'Maiya Williams and Kenneth Winslow were recognized at the event held in McMillan Auditorium.
Pensacola State President Ed Meadows congratulated the graduates on completing the program and encouraged them to return to the College to continue their education in the healthcare field.
Sandy Moore is the program director.
Graduates from the Medical Assisting program work in physicians' offices, clinics, offices of other health practitioners, and hospitals. This one-year certificate program incorporates a combination of theoretical, simulation, and hands-on instruction.
The program is accredited by the Commission on Accreditation of Allied Health Education Programs upon the recommendation of the Medical Assisting Education Review Board.