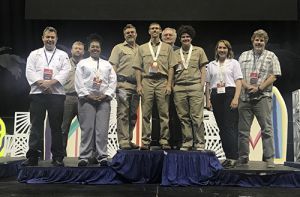 Published: 05-07-2019
Seven Pensacola State College SkillsUSA student-members have qualified for the organization's national conference ─ after winning gold at the state level.
Hosted by Pensacola State, the 2019 Florida SkillsUSA State Leadership and Skills Conference was held April 7-9 at the Pensacola Bay Center. The event had a $4.5 million impact on the local economy and brought more than 6,000 visitors to the area for the conference and Worlds of Possibilities Career Expo and Job Fair.
Pensacola State students won gold medals in five categories, silver medals in four and bronze medals in five. Gold medal winners advance to the 55th annual National Leadership and Skills Conference scheduled for June 24-28 in Louisville, Kentucky.
Gold medal winners are:
Carpentry
Daniel Sarfert, Advisor Tony Grahame
Culinary Arts
Kristine McMillian, Advisor Jimmie Chef Langham
Photography
Kendall Sainata, Advisor Mark Francis
TeamWorks
Team B: Jeffrey Crane, Brandi Duplechain, Dannon English and Shawn McCarter, Advisor Tony Grahame
Silver medal winners are:
Commercial Baking
Troy Berry, Advisor Chef Jimmie Langham
Culinary Arts
Charles Coxson, Advisor Chef Jimmie Langham
Medical Assisting
Billie Morris, Advisor Mary Turner
Photography
Nicholas Bridges, Advisor Mark Francis
Bronze medal winners are:
Esthetics
Team A: Tracey Curry and model Tiffany Dobbins, Advisor Sonja McCall-Strehlow
Job Skill Demonstration A
3rd – Amanda Stores, Advisor Julie Burger
Photography
Jay Dunham, Advisor Mark Francis
Related Technical Math
Danielle Suggs, Advisor Julie Burger
Welding Fabrication
Team F: Travis Tanner, Alana Lance Taylor and Asa Watkins, Advisor Jacob Redwing
Pensacola State's Culinary Quiz Bowl Team A also won first place in a Florida SkillsUSA State-Only competition. The team ─ made up of Kim Armstrong, Kelli Cunningham, Tiara Ruggs, Amanda Thomas and Advisor Joni Verlin ─ will not compete in the national conference.