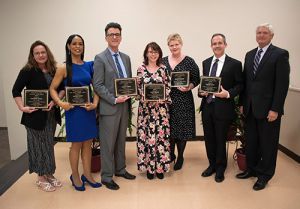 Published: 05-07-2019
Five Pensacola State faculty members have been inducted into the College's Academy of Teaching Excellence.
The 2019 inductees are:
Dr. Burton Beck, History, Languages, Social Sciences and Education
Wendy Carden, Mathematics and Computer Science
Jamey Jones, English and Communications
Sarah Smith, English and Communications
Chandra Wood, Applied Technology and Professional Services
Dr. Rameca Leary, Business, was selected as the Outstanding New Faculty Member.
The awards recognize outstanding classroom instructors who demonstrate sustained teaching excellence as measured by four criteria:
Demonstrated knowledge of and enthusiasm for subject matter
Good rapport/relationship with students
Effective course content and organization, and
Effective instructional methods.
The faculty members were honored at a reception and dinner on April 2 in the Student Center on the Pensacola campus.