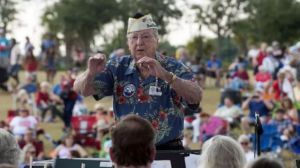 Published: 05-21-2019
Pensacola resident and Pearl Harbor Survivor, Frank Emond, will join the record books on Monday, May 27, 2019 as the world's oldest living conductor.
Mr. Emond will conduct the Pensacola Civic Band at the 4th Annual Pensacola Memorial Day concert.  The free concert is set to begin at 5 p.m. at the Hunter Amphitheater at Community Maritime Park behind the Blue Wahoos Stadium.
Originally from Rhode Island, Mr. Emond enlisted in the Navy in 1938 as a musician.  He played French horn for the ship's band and even got to perform at the 1938 World's Fair in New York before he was assigned to the USS Pennsylvania in Hawaii in the summer of 1941.  As the sun rose on December 7, 1941, he was preparing for morning colors and the raising of the American flag.  That's when Mr. Emond noticed the hundreds of Japanese planes that filled the sky followed by the sound of torpedoes striking the ships docked at Pearl Harbor.
The Memorial Day program ─ conducted by Don Snowden, Pensacola Civic Band director ─ will entertain the audience with a number of patriotic selections that reflect on the sacrifices made throughout our nation's history.
Featured at this year's concert is World War II veteran and Pearl Harbor survivor Frank Emond, who recently celebrated his 101st  birthday. He will narrate his Pearl Harbor experience while the Pensacola Civic Band plays Jay Bocook's "At Dawn They Slept."  Then Mr. Emond will once again guest conduct the band in Sousa's "The Stars and Stripes Forever," setting a Guinness World Record as the oldest conductor. Singer Holley Shelton, joins the band as she performs the American classic "God Bless the U.S.A. "
The Pensacola Civic Band is excited to have Pensacola Mayor Grover Robinson IV perform this year in Harold Walters piece for narrator and band "Duty, Honor, Country."
"The concert is an excellent way for residents, families, and friends to end the Memorial Day holiday weekend and have the opportunity to honor the men and women who have served in the military to maintain our freedom," said Snowden, academic head of Pensacola State's Performing Arts Department.
Attendees should bring chairs or blankets for outdoor seating. Several vendors will be on site with concessions and beverages available for purchase.
Pensacola State College, the Pensacola Civic Band, the City of Pensacola Parks and Recreation and Community Maritime Park partnered to make the concert possible. This year's concert is also a donation location for Manna Food Bank.  Learn more at www.mannahelps.org.
For more information, visit www.pensacolaremembers.org or call the PSC Lyceum Ticket Office at 850-484-1847.