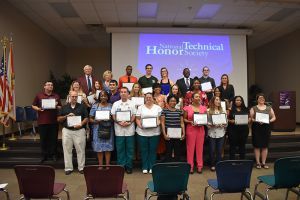 Published: 09-11-2019
By Troy Moon, Pensacola State College
Apparently, this Cisco Certified Network Associate class is a brain-scrambler. Even to some of Pensacola State College's brightest students.
Forty-nine Pensacola State students recently were inducted into the National Technical Honor Society (PSC chapter), and when asked the hardest class they've taken, a handful of students offered up "CCNA'' ─ a series of classes in the College's cybersecurity program. Still, that doesn't keep students from pursuing a career in cybersecurity. Cisco and other technical companies have predicted a need for millions of cybersecurity jobs in the coming years.
"You get a good education and you can be one of the people battling the bad guys,'' said Connar Moore, who hopes to earn her bachelor of applied science degree in cybersecurity in the spring. "It's definitely a growing field."
Though cybersecurity students made up a large percentage of the inductees, the students enrolled in the College's Career and Technical Education programs are studying in a variety of fields, ranging from dental hygiene, nursing and other health care fields to culinary management and business administration.
"They leave with a very specific skill,'' said Sydney Smart, a PSC career and technical education specialist and advisor to the college's National Technical Honor Society chapter. "That's kind of the point of CTE. And the classes they take focus on those skills."
The National Technical Honor Society was established in 1984 to recognize students in technical and career-specific fields. The organization has awarded more than $2 million in scholarships since its inception.
Inductee Scott Schneider, 50, admitted he was a bit older than most of his fellow students.
"I'm the old geezer,'' said Schneider, a four-year U.S. Air Force veteran. "I'm done a lot of work over the years." That includes lots of physical work and a stint as an 18-wheel truck driver.
He wanted to continue working, but desired a new direction.
"All the careers I've had have been hard on the body,'' Schneider said. "I'm getting older, but my mind is still sharp and I want a profession where I use my mind more than my physical strength. Cybersecurity is a perfect fit for me."
Other 2019 fall National Technical Honor Society inductees are:
Sandra Alexander, Shalanda Anderson, Brittany Arumugam, Bobby Austin, David, Boemer, Devin Bonner, Keyanna Bozeman, Keairra Brown, Trace Brown, Jeremy Chadwick, Cong Chen, Eugenia Conatser Day, Tawada English, Kristen Flowers, Lacie Flowers, Sheri Fountain, Drew Gowan, Merry Hartung, Carrie Helm, Nicholas Holt, Lawrence Hull, Jesse Hutchinson, Tiffany Johnson, Darriell Jones, Michelle Jones, Amanda Jonesi, Jennifer King, Jorianna Mallow, Nathaniel Mathias, Kyle Mertins, Michelle Mollere, Alonzo Moody, Bryce Nettles, Frank Olivas, Dariane Piehl, Richard Poff, Aaron Render, Caitlyn Schoen, Beverly Simpson, Eric Smith, Deborah Sparks, Theresa Stenke, Theodore Sumrall, Sheryl Thomas, Meleanie Wadkins, Nicola Ward and Tamuera Morrow Washington.
For information on CTE fields at Pensacola State College, go to https://www.pensacolastate.edu/current-students/student-services/cte/.