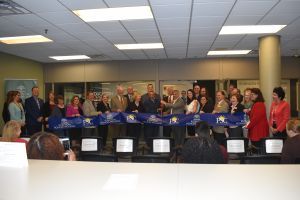 Published: 03-07-2019
Thirty-three Pensacola State College students were recently selected as new members of the Robinson Honors Program.
These Robinson Scholars were recognized during a Feb. 19 ceremony in Chadbourne Library following a ribbon cutting for the Robinson Honors Program Learning Center – a state-of-the-art room equipped with an 86-inch interactive television with a built-in computer and an area for lounging and studying.
"It is a space designed to allow Robinson Scholars to mingle, collaborate, study and create as they work to make a difference on campus and in our community," said Amber Carey, Robinson Honors Program coordinator. "These students work very hard, and we wanted them to have a place they could call their own."
The Learning Center also has a work station with charging ports for laptops and phones, and even an office where students can retreat to have quiet study time.
Spring 2019 Robinson Scholars are Jasmine Alday, Noah Arwine, Elaina Bailey, Renee Bates, Joseph Bell, Hailey Conlin, Dezurea Chadwick, Allison Dugas, Joshua Van Drunen, Caila Duray, Chloe Fox-Edele, Camille Gale, Aryn Hightower, Amber Holman, Tyler Jacke, Tavarsha James, Logan Kane, Audra Kayl-Woodruff, Mansoor Kyemtore, Damian Mena, Cari Milton, Cecila Rogers, Samuel Rollins, Audrey Stemen, Taylor Rooney, Joyce Shung, Taylor Spiegelhalter, Curt Spiegelhalter, Walter Stelly, Leah Switzer, Rebeccah Thompson, Miriam Villa and Katelyn Wiehl.
The Robinson Honors Program was named to honor the late Grover and Sandra Robinson III who dedicated many years of service to Pensacola State. The Robinsons' son, Grover Robinson IV, and his wife, Jill, established an endowment with the Pensacola State College Foundation in his parents' memory. The endowment assists in offsetting the cost of small class sizes, seminars, travel scholarships and other unique opportunities associated with the Robinson Honors Program.
Grover Robinson IV, current Pensacola mayor and former Escambia County commissioner, encouraged the student-scholars to pursue their dreams during the Learning Center's ribbon cutting.
At the recognition program, Pensacola City Councilman Jared Moore spoke to the students and their families about the concept of honor and described how service is an integral part of being a leader.