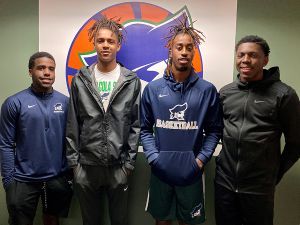 Published: 10-31-2019
Pensacola High, Catholic High and Choctawatchee players round out 2019-2020 Pirates squad
Three area athletes will begin their collegiate careers when the Pensacola State College basketball team opens its 2019-2020 season this weekend.
Pensacola Catholic High grad Dexter McKenzie, Milton High's Adrian Walker and Choctawatchee High's Josh Williams will showcase their talents when the Pirates face Action Sports Academy at 7:30 p.m. Friday in Hartsell Arena.
The Pirates also will play Coastal Alabama Community College – South's Sun Chiefs at 7:30 p.m. Saturday at home.
"These three players will join sophomore guard Shawndarius Cowart, another Pensacola native, as well as a squad of international players who come from all over the world – Africa, Canada and Dominican Republic," said Pete Pena, the Pirates' head coach.
"We are really excited to have four young men who are not only very good players, but also outstanding young men. Their families and alma maters should be proud."
The Pirates are coming off a 17-12 record during the 2018-2019 season and Pena said he expects an even better results this year.
The freshmen, who all graduated from high school in May, said they are prepared.
"We're improving our chemistry as a team, becoming more focused and playing for each other – not just for ourselves," said Williams, a 5-foot 10-inch point guard who was a two-time 7A All-District Player, Florida Association of Basketball Coaches (FABC) 3rd Team All-State and 7A State runner-up in high school.
Cowart, a 2017 Pensacola High grad, is entering his second year with the Pirates and echoed Williams' sentiments.
"We've been practicing hard to get ready for our season and coming together as a team," said Cowart, a 6-foot 3-inch shooting guard who averaged 12 points per game and 8.3 rebounds per game as a freshman Pirate.
"As a team, our new and returning players are all getting used to Coach Pena's system. He's always on you because he wants you to become a better player and a better person. We know he is just getting us ready for life."
Walker, a 6-foot 4-inch guard, who played basketball his junior and senior years at Milton, was named to the FABC 3rd Team All-State and Florida Source Hoops 3rd Team All-State.
"Pensacola State was the best thing for me. It was the right move, I already knew some players on the team and the college is close to home," said the 18-year-old who is expecting his family to turn out for this weekend's game.
"My grandmother, Tammy Walker, is my biggest cheerleader and supporter. She came to all of my high school and junior high games, so I know she'll be at all of my PSC home games."
When asked why he only played two years of high school, Walker admitted he wasn't mature enough.
"My grades were not where they needed to be, and I was young and didn't know what was best for me at the time," shared the business and management major, who plans to attend a university after PSC and eventually join his family's business.
Williams, 18, has been playing basketball since he was a toddler.
"My dad has videos of me playing basketball at 3," recalled Williams, who started out playing basketball with his 5-year-old brother, Jermaine.
Williams' parents, Jermaine and Courtni Williams Sr., won't be at Saturday's game. They are both officers in the U.S. Air Force and are now stationed in Texas.
"But my dad will livestream the game and call me right after it's over to 'critique' and 'coach' me," Williams said. "He has yet to tell me 'good game' but he does tell me what I need to hear in order to improve."
A physical education major, Williams wants to play basketball at an SEC university and eventually become a coach and athletic director.
McKenzie, a 6-foot 2-inch guard, started playing basketball at age 5, and is looking forward to sharing the court with Cowart again. The two played together in the City of Pensacola Youth Basketball League.
"We both played at the Cobb Center, and I love the game," said McKenzie, 18, who plans to transfer to a four-year university and study mechanical engineering.
"You always must have a Plan B and I want to own my own engineering firm at some point," he explained the Catholic High grad who averaged 14.7 points per game in high school. "I want to serve as a mentor to younger students."
Also rounding out this year's Pirates roster are Jasman Sangha of Toronto, Elijah Phillips of Port St. Lucie, Rodney Smith of Atlanta, Bryce Waterman of Albany, New York, Carlos Rosario of the Dominican Republic and Cheickna Sissoko of Mali, Africa.
If you go
What: PSC Pirates vs. Action Sports Academy
When: 7:30 p.m. Friday, Nov. 1
and
PSC Pirates vs. Coastal Alabama Community College – South Sun Chiefs
When: 7:30 p.m. Saturday, Nov. 2
Where: Hartsell Arena, Pensacola State College
Tickets: $5 for general public, free for PSC students. Tickets can be purchased at Hartsell Arena.