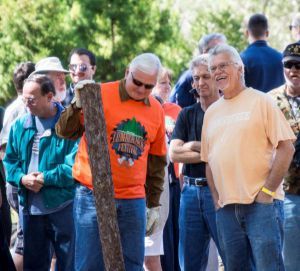 Published: 02-03-2017
Get ready for plenty of family fun at the 29th annual Forestry Conclave and Lumberjack Festival from 8 a.m. to 4 p.m., Saturday, March 4 at Pensacola State College's Milton campus, 5988 Highway 90.
The free community event features forestry competitions, food, bluegrass music, children's activities, crafts, and nature and wildlife exhibits.
Forestry competitions for adults ages 16 years and older take place throughout the day and include knife and axe throwing, log rolling, cross-cut sawing, pulpwood tossing and more.
Youth ages 13 to 15 years may compete in knife throwing at 9 a.m., and cross-cut sawing at 9:30 a.m.
Children ages 12 years and younger can participate in face painting, crafts, and a variety of outdoor activities throughout the morning.
Registration for the forestry competitions begins at 7:30 a.m. Children, senior citizens and high school students compete for free. For other competitors, there is a $5 event participation fee.
The festival also includes opportunities to learn about environmental degree programs offered by PSC and the University of Florida at the Milton campus.
For more information, call Exhibit and Lumberjack Game Coordinator Greg Ledet at 850-484-1034 or gledet@pensacolastate.edu.