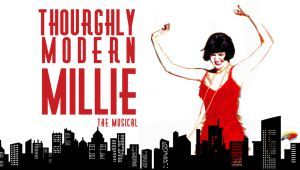 Published: 07-05-2017
More than 50 local high school students are featured in Pensacola State College's 27th annual Summer High School Onstage Workshop production, "Thoroughly Modern Millie," July 21-23 and July 28-30.
Friday and Saturday performances are 7:30 p.m. and Sunday matinees are 2:30 p.m. at the Ashmore Fine Arts Auditorium, Building 8, on the Pensacola campus.
The musical comedy's setting is 1922 when small-town Millie Dillmount comes to New York City to marry for money instead of love. She delights in the flapper lifestyle until problems arise and hilarious chaos takes over. The original production opened on Broadway in 2002 and subsequently won six Tony Awards, including Best Musical.
The talented cast features students from 13 high schools, Catholic: Brooke Bradley, John Chance Ruschel, Hilda Troche, Olivia Whitner; Florida Virtual School: Kismet Dunkerley; Gulf Breeze: Ashton Bosso, Maggie Braun, Olivia Chaney, Emma Chestney, Isaac Fritz, Hunter Hill, Logan Reeder, Roxanne Vogel; Lighthouse Christian Academy: Wren Godwin;
Milton: Alyssa Allen, Jake Benton, Ai'Ana Cowart, Melissa Diamond, Chandler Mathews, Kacie Parker; Navarre: Tony Beyer, Kathan Brannon, Phillip Carrington, Serena Daws, Margaret Harvey, Janea Hundley, Kaitlin Indelicato, Jessica Wright; NWFL Home School: Aden Burkhardt, Mistine Julius, Grace Anne Trombly; Pace: Caleb Beeks, Erin Ennis, Valarie Godwin, Veronica Lindholm, Ethan Price, Gage Rodgers;
Pensacola: Noelle Dorvault, Stephanie Gutierrez-Diaz, Louise Harris, Marley Reynolds; Pensacola Christian Academy: Mischel Johnson; Tate: Lindsey Morris; Washington: Laura Connally, Delaney Dean, Afton Fagan, Carissa Ferguson, Kindell Harris, Justin Hummel, Kate Owens; West Florida HS: Hannah Grace Smith.
Production team includes Rodney Whatley, director; Margie Timmons, associate director/costumer; Michael Dennis, choreographer; Stephanie Busby, musical director; Bob Gandrup, technical director; Justin Jones and Carley Lambert, assistant directors; Loren Stone and Christopher Mandel, assistant choreographers.
SHOW is a tuition-free theatre program for high school students offered by Pensacola Sate each summer since 1991.
All tickets are $16. They are available online at lyceum.pensacolastate.edu/tickets-information and at the Lyceum Box Office, Building 8, Room 861, from 8:30 a.m. to 4 p.m. Monday – Thursday and one hour before each performance.
For ticket reservations and information, call the Lyceum Box Office at 850-484-1847.