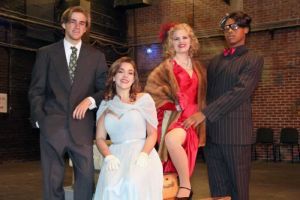 Published: 07-05-2016
Pensacola State College's 26th annual Summer High School Onstage Workshop (SHOW) features 33 local high school students in the musical comedy, "Crazy for You," July 22 through 24 and July 29 through 31.
Friday and Saturday performances are 7:30 p.m. and Sunday performances are 2:30 p.m. at the Ashmore Fine Arts Auditorium, Building 8, on the Pensacola campus.
Winner of the 1992 Tony Award for Best Musical, "Crazy for You" is a classic Gershwin blend of music, laughter, dancing, sentiment and showmanship. The story revolves around a banker with a yen for show business who is sent to foreclose on a theatre. After falling in love with the local postmistress, he decides to put on a show to save the theatre and riotous entertainment ensues.
The large, talented cast features students from the following high schools: Catholic – Michael Tobias; Florida Virtual – Cristina Fabbro; Gulf Breeze – Emma Chestney, Sophia Holston, John McLeod, Pepper Rice; Interlochen Arts – Emily Chaney; Milton – Alyssa Allen; Navarre – Kathan Brannon, Aden Burkhardt, Benjamin Maxey, Kirsten Rude, Jessica Wright; Pace – Ava Fitzgerald, Veronica Lindholm, Emily Lipford, Ethan Price, Gage Rodgers; Pensacola Christian – Mischel Johnson; Pensacola – Madison Payne, Olivia Whitner; Tate – Delaney Beal, Troy Craig, Mallory Nelson; Washington – DeAngelo Beasley, Laura Connally, Delaney Dean, Afton Fagan, Emma Jensen, Ashley Johnston; and West Florida – Amaris Ball, Kismet Dunkerley, Paige Hurst.
Production team includes Rodney Whatley, director; Margie Timmons, associate director; Bob Gandrup, technical director; Ben Drennan, music director; Michael Dennis, choreographer; and Tammy Chaney, costumer.
SHOW is a tuition-free theatre program for high school students offered by PSC each summer since 1991.
All tickets are $16. They are available online at http://lyceum.pensacolastate.edu/tickets-information/ and at the Lyceum Box Office, Building 8, Room 861, from 8:30 a.m. to 4 p.m. Monday through Thursday and one hour before each performance.
For ticket reservations and information, call the Lyceum Box Office at 850-484-1847.