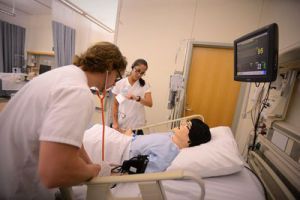 Published: 10-31-2017
High school students across five counties are invited to attend the 21st annual Health Career Fair from 9:30 a.m. to 2 p.m. Friday, Nov. 3, at Pensacola State College's Warrington campus, 5555 West Hwy. 98.
A ShandsCair 6 helicopter will be on site for students to explore along with hands-on activities such as air polishing a tooth, using an intraoral digital camera, listening to a heart and lung with "Harvey" simulator, and assembling a puzzle of human body x-rays.
Students will rotate through 12 health career opportunities including physical therapy assisting, radiography, phlebotomy, pharmacy, nursing simulation, EMT, sonography and dental hygiene.
Sponsored by PSC and West Florida Area Health Education Centers, the event provides a first-hand look at health career options for students from Escambia, Santa Rosa, Walton and Okaloosa Counties as well as Baldwin County, Alabama.
For more information, contact Jennifer Ponson, PSC Student and Program Outreach coordinator, at 850-484-2245.