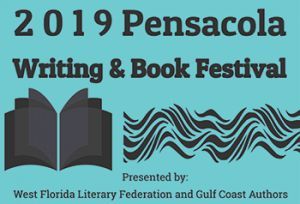 Published: 10-09-2019
The 2019 Pensacola Writing and Book Festival promises something for everyone ─ from the young to the young-at-heart.
Set for 9 a.m.-5 p.m. Saturday, Nov. 9, in the Studer Community Center in downtown Pensacola, the festival will feature best-selling author Lenora Worth as the keynote speaker and include a lineup of other writers and workshops.
Registration for the free event, which is a part of the 2019 Foo Foo Festival, begins at 9 a.m. at the center's ground-floor atrium located at 220 W. Garden St.
Worth, a Romance Writers of America's 2019 RITA finalist, has more than three million books in print. Her books have appeared on the New York Times, USA Today and Publishers Weekly best-seller listings.
Novice or published writers and book lovers of all ages are invited to hear 10 authors share tips on how to start writing, publishing a novel and writing a memoir, romance, thriller and more. The speakers and panelists include:
● No. 1 Amazon International best-selling thriller author Michael Byars Lewis, whose Jason Conrad series has won 15 book awards;
● Acquiring editor and publisher of Tennessee's Wordcrafts Press Mike Parker (who also will take pitches from writers for a possible publishing deal);
● Award-winning author and Auburn University novel-writing guru instructor Larry Williamson;
● Top 10 Amazon best-selling playwright/author/freelance writer of over 1,000 works Paula K. Parker;
● Seven-time award-winning author/Hollywood screenwriter and producer M. M. Le Blanc;
● Author and Pensacola News Journal editorial cartoonist Andy Marlette;
● Military veterans and authors Sandra Davis and Rachel Coggins, and several others.
Speaking sessions include "Romancing the World," "How to Begin Writing: Writing Spaces, Outlines and Writing the First Place," "Edit, Publish and Copyright Your Book," "Writing Military/Veterans Thrillers," "Memoirs, Biographies and History," and "How to Write Funny."
There also will be children's activities including a Kids Korner Puppets and Story Hour with Laura Richardson, otherwise known as The Queen. Teens and tweens will have the opportunity to write and illustrate fantastic creatures with "Dragon" series author Vicki Shankwitz and illustrator Robert Shankwitz III.
The festival is being presented by West Florida Literary Federation and Gulf Coast Authors. Pensacola State College, BizEntine Press, Learn to Read NW Florida, Studer Properties and Trent's Prints are the strategic partners.
The festival is open to the public, however there is limited seating. Register for tickets at www.eventbrite.com. For more information about the festival, email writingandbookfestival@gmail.com or visit www.wflf.org and www.gulfcoastauthor.com.