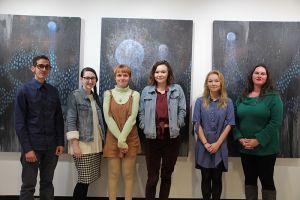 Published: 11-27-2018
Six of Pensacola State College's most talented writers were recognized Wednesday, Nov. 14, at the 2018 Walter F. Spara Writing Competition Awards Reception.
Sarah Beal, Ian Belknap, Brenna Tressler, Abigail Johnson, Sarah Richards and McKaila Waddell were the top winners in the annual competition which honors Spara. A Pensacola State English professor from 1966 to 2000, Spara initiated the college's creative writing program and its nationally-recognized literary journal, "Hurricane Review."
The writers were recognized at an awards reception held in the Anna Lamar Switzer Center.
In the essay category, "A Memoir of Mother Goose" by Richards won first place. In the essay, Richards shares how Mother Goose nursery rhymes played a pivotal role in her life from childhood to adulthood and motherhood.
In the short fiction category, Tressler's "Eagles" won first place. And Beal's "Sticky Things" garnered first place in the poetry category.
First-place winners were awarded $100; second place, $50; and third place, $25. Other 2018 winners were:
Short Fiction:
Second place: Sarah Beal's "True Friend"
Third place: McKaila Waddell's "Cool Jazz"
Poetry:
Second place: Ian Belknap's "Burger Heaven"
Third place: Abigail Johnson's "In the Space Between Words"
Essay:
Second place: Ian Belknap's "Honor Guard"
Third place: McKaila Waddell's "From Roots to Wings."