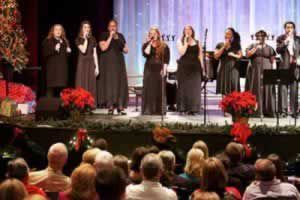 Published: 11-29-2016
Have you toured an actual Tiny House under construction? Or tried your hand at welding? Or witnessed a 3-D printer in action?
If your answer is "No" to any of these adventures, save the date of Dec. 6 because Pensacola State College's 2016 Holiday Experience promises to be a night of enlightenment.
Starting at 5:30 p.m., Pensacola State's second annual Holiday Experience will give community friends a glimpse of the college's workforce education and career technology programs. The evening begins with books – and cheers – at the Edward M. Chadbourne Library, Building 20, followed by a tour of several of the college's workforce education programs.
"From the library social, guests will visit our Tiny House in Building 18 and hear from our students about what goes into the fabrication of one of the hottest housing trends on the market today," said Aaron West, executive director of the Pensacola State College Foundation. "This will be a sort of Santa's Workshop featuring our students sharing what goes into the construction process from carpentry, to electrical, plumbing and HVAC installation."
Construction of the 200-square-foot Tiny House with an additional 100-feet of loft space started in March. The low-maintenance structure which features cypress siding, a metal roof, spray foam insulation, aluminum-clad windows and other amenities is expected to be completed next spring.
Afterwards, guests can put on a pair of safety goggles and do some welding in the college's virtual mobile welding center. And they also can watch as students demonstrate cutting-edge skills with 3-D printers.
"This is our premiere event of the year and a chance for us at Pensacola State to bring our community friends onto campus to show them what we do and how our programs benefit the community," West added.
"It's also an opportunity for us to showcase our amazing students to the community. More than 100 students will be involved in this year's Holiday Experience which will give them an opportunity to share what they've learned here at Pensacola State."
The last stop of the night for the Holiday Experience will bring guests to the G. Thomas Delaino Student Center for a delicious supper prepared and served by students enrolled in the Culinary and Hospitality programs. The center will be decorated in a festive holiday theme complete with Christmas trees, toys and caroling by the PSC Jazz Choir.
More than 200 friends turned out for last year's Holiday Experience which generated more than $70,000 to help students, said Pensacola State President Ed Meadows.
"All of those proceeds – just like this year – benefitted the college's scholarship funds and was used to support programs," he said. "This year we chose to highlight workforce education and career technology because it allows us to show the scope of what is offered here at Pensacola State."
Meadows noted the college offers bachelor's degree as well as associate degree programs which can transfer to public Florida universities – but added the workforce education and career technology programs can transform lives in as little as one semester.
"Our phlebotomy is a one-semester program that can lead to employment in the health care field or be a stepping stone to another health care program such as nursing," he explained. "However our cybersecurity and welding programs are longer – up to two years – and can lead to high-paying, high-demand positions in the workforce."
Dress is casually festive and cost for the evening is $100 each for the Holiday Experience. For reservations, contact the PSC Foundation at 850-484-1560 or visit foundation@pensacolastate.edu.