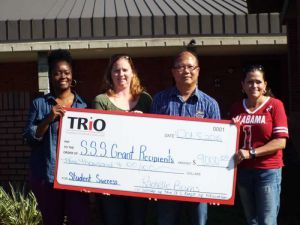 Published: 11-14-2016
A financial windfall has many uses for a college student. Extra cash can buy textbooks, groceries or gasoline, make a rent payment, or take care of a visit to the doctor.
Pensacola State College student Karen Dennis plans to use a $600 TRIO-Student Support Services (SSS) grant for summer school tuition. The 44-year-old who has returned to the classroom after more than 25 years is one of 15 TRIO-SSS participants to receive the grant funds earlier this semester.
"I went to summer class this past summer, and I'm trying to get my degree within a two-year time frame," said Dennis, who is majoring in social work. "I plan to transfer to the University of West Florida after I graduate – which is something the TRIO program also helped me realize can happen."
Rachelle S. Burns, director of TRIO-SSS, describes the program as one of Pensacola State's best-kept secrets, despite attempts to make it widely known.
"Two-thirds of our students learned about us through faculty referrals or by word-of-mouth," Burns said, adding the federally-funded program services are available to students who are:
• First Generation College: neither parent has earned a four-year college degree
• Low Income
• Disability: a physical or learning disability that requires special accommodations for the student to succeed academically
• Evidence of academic need during the student's application process
"We do just about everything that we can to ensure our students succeed – except, of course, take their classes for them," Burns said laughing. "Our tutoring lab is one-on-one and is available evenings and weekends. We also have two advisers – one who is assigned to each participant and will be with them until they graduate.
"The program provides intensive help – we do it all, provide academic support, career-counseling and sometimes we just lend an ear so our participants can talk through some life issues they may be experiencing."
Other fall semester TRIO grant recipients and their majors are:
• Cindy Fattah, accounting technology
• Khadija Fields, business
• Teresa Jeanpierre, paralegal
• Linda King, business administration
• Terry Matthews, general studies
• Catherine Moore, psychology
• Ashley O'Shea, health services management
• Quang Pham, general studies
• Robert Seese, pre-nursing
• Shamira Tyler, nursing
• Kimberly Arabian, social work
• Sara Herrington, education
• Teresa Manacle, business administration
• Tiffany Tingstrom, paralegal studies
In order to receive grant funds, recipients must have completed two semesters of active participation in TRIO-SSS, which means two contacts with their adviser, utilizing the tutoring lab at least twice each term, participating in either a four-year university visit or cultural event field trip, and completing a financial literacy activity.
"Our ultimate goal is to help them to stay in school. And help them reduce the financial stress of attending college," Burns explained.
The Pensacola State program currently has 180 students in the program – but can serve up to 225 participants. Along with Burns, the TRIO-SSS office has two counselors: Kimberly Calloway and James Blackwell; Randall Broxton, tutoring lab supervisor; and Penny Taylor, administrative assistant and retention specialist.
Since its inception more than 35 years ago, the program has helped more than 4,500 Pensacola State students.
Dennis gladly touts the benefits of the program.
"Before I enrolled in college, I had worked as a medical assistant, phlebotomist, life coach for developmentally disabled adults and even a corrections officer for three years," Dennis remembered. "The turning point in my life was when my 7-year-old daughter, Ahzyria, asked me what I wanted to be when I grew up. I always stressed the importance of getting a college education to her and she asked me why I hadn't gone to college."
A 1990 Pensacola High graduate, Dennis said it was at that point, she decided to enroll in college.
"But the process – financial aid, the fees, being back in the classroom after so long – was overwhelming. Thank goodness someone told me about the TRIO-Student Support Services program," she said. "It has made a very real difference for the better in my academic career."
She admitted choosing a major was a lot easier.
"I've always loved children and had had custody of two minor-age cousins for a year because their mother had a substance abuse problem. Social work just seemed a natural progression for me," Dennis said.
"I tell other students about the TRIO program. I remember being really terrified about not knowing what to expect when I came back to school. The program has really eased my transition back into the classroom. I can honestly say I would not be as successful as I am without the TRIO program."