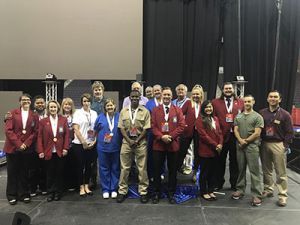 Published: 05-10-2018
Fifteen Pensacola State College SkillsUSA student-members qualified for the organization's national conference ─ after winning gold at the state level.
Pensacola State also was named a 2018 Gold Medal Chapter of Distinction, and culinary arts Instructor Jimmie Langham received the Florida SkillsUSA Advisor of The Year award.
Hosted by Pensacola State, the 2018 Florida SkillsUSA State Leadership and Skills Conference was held April 30 and May 1 and brought more than 6,000 visitors to the Pensacola area for the event and Worlds of Possibilities Career Expo and Job Fair.
Pensacola State students won gold medals in nine categories, silver medals in three and bronze medals in two. Gold medal winners automatically advance to the 54th annual National Leadership and Skills Conference scheduled for June 25-29 in Louisville, Kentucky.
Gold medal winners are:
Carpentry (Instructor Anthony Grahame)
Customer Service (Instructor Sonja Strehlow-McCall)
Job Skills Demo A (Instructor Daniel Ward)
Job Skills Demo Open (Instructor Sonja Strehlow- McCall)
Kristy Lopez with model Hayes Rousan
Medical Assisting (Instructor Mary Turner)
Nursing Assisting (Instructor Mary Turner)
Occupational Health and Safety – Multiple (Instructor Arvie Vitente)
Team A: Anna Fischer, Matthew Parker, Kristine Kaibigan
Photography (Instructor Mark Francis)
State Only Contest
Culinary Quiz Bowl (Instructor Chef Jimmie Langham)
Team A: Kelli Cunningham, Tina Longwell, Ellen Peppler, William Davis
Silver medal winners are:
Esthetics (Instructor Sonja Strehlow-McCall)
Team C: Jacquelyn Rohde with model Sheila Nichols
Wedding Cake Design (Instructor Chef Jimmie Langham)
Team B: Jordan Gibbs, Kim Armstrong
Welding Sculpture (Instructor Jacob Redwing)
Bronze medal winners are:
Cabinetmaking (Instructor Anthony Grahame)
Job Interview (Instructor Brian Ward)