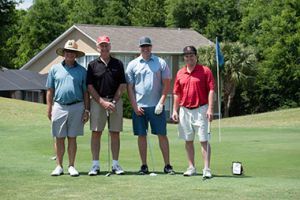 Published: 06-11-2019
Beautiful weather, enthusiastic volunteers and outstanding supporters made it a great day for the 14th Annual Big Break Golf Classic held May 3 at Marcus Pointe Golf Club.
"That Friday was a picture perfect and these businesses and individuals helped make a significant impact toward our journey of financially assisting our most-deserving students and programs," said Laura Hill, PSC Foundation donor relations manager/events.
Hill extended congratulations to the SYNOVUS golf team made up of Jared Martin, Alex Niedermeyer, Harris Turner and Richard Turner who placed first and to Wayne Hood, Tim Mallory, Scott Grissett and Doug Rogers who came in a close second place at the event.
"We are so grateful for all of the incredible sponsors and golfers who supported the annual Big Break Golf tourney," Hill added.
Other Big Break Golf Classic supporters included:
Auction and Prize Sponsors: Artesana Imports, Barrow Fine Furniture, Beré Jewelers, B.J.'s Restaurant, Celebrations, Chico's, Dr. Kevin Welch, Everybody's Irie Doggie Salon, Flora-Bama, Highpointe Hotel Corp, Great Southern Restaurants, Klumb Lumber, Lee Tracy & Intercoastal, Marcus Pointe Golf Club, Norwex, Olive Garden, OWA, Pensacola Bay Center, PoFolks, Pro Health, Results Aesthetics, Sonny's BBQ, Southern Dental Association, Stonebrook Golf Club, Texas Roadhouse, The Oar House, The Wine Bar, UPH, VooDoo BBQ and Grille, West Florida Hospital and WSRE-TV.
Cork Pull Sponsors: Andrea Krieger, Betty Roberts, DeLuna Winery, E.W. Bullock, Hill and Harris Turner, Hess Realty Group, Laura Hill, SunFarm Energy, V. Paul's Italian Ristorante and Brian Williams.