Published: 05-19-2022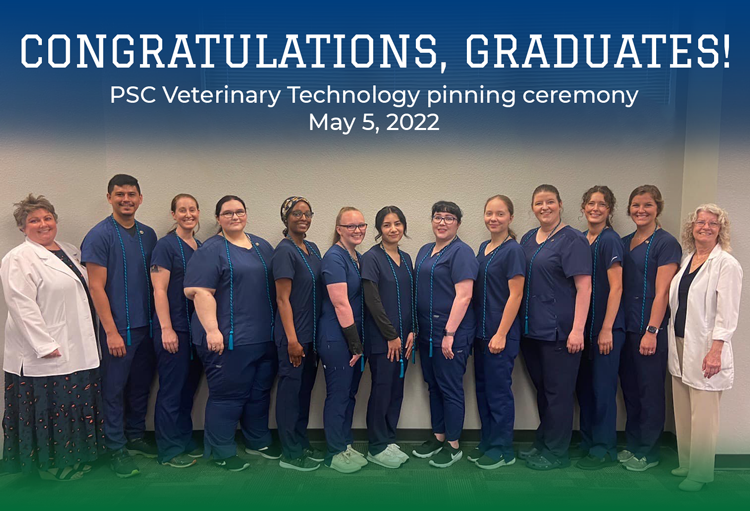 By Troy Moon
Pensacola State College
The Pensacola State College Veterinary Technology Program has sent another 11 graduates out into the workforce. They'll help care for our pets and animals in communities for years to come.
The students earned their Veterinary Technology Vocational Pins at a ceremony on May 5 and graduated with Associate of Science in Veterinary Technology degrees during PSC's commencement ceremony on May 8.
The graduates will take their national competency exam during the summer, though most are already working in veterinary clinics or have jobs lined up, said Sarah Meyer, director of the Veterinary Technology Program.
"They were hardworking and had a real good teamwork ethic,'' Meyer said. "They're a pretty diverse group with a lot of varied backgrounds."
One of those graduates is Veterinary Technician Holman Rios, who moved to Pensacola a few years back when his girlfriend began classes at the University of West Florida. Soon, Rios had enrolled in the premed program at UWF, but left when he realized it wasn't a good fit. He already had a job in a local veterinary clinic and decided to enroll in PSC's Veterinary Technology Program.
"PSC's program is fantastic,'' said Rios, who plans to move to Tampa later in the year for another clinic position. "I think it's the gold standard for veterinary technology. They really do a great job of teaching and preparing you for the work environment. For me, it was a great decision."
Next up for the graduates is the Veterinary Technician National Exam (VTNE), which is usually not a problem for PSC's graduates.
The national average for passing the VTNE during the most recent three-year period is 70 percent. PSC's passing rate during the same period is 88 percent.
The PSC Veterinary Technology program is accredited by the American Veterinary Medical Association Committee on Veterinary Technician Education and Activities.
For more information about the program, contact PSC Admissions at 850-484-2544 or healthprograms@pensacolastate.edu.